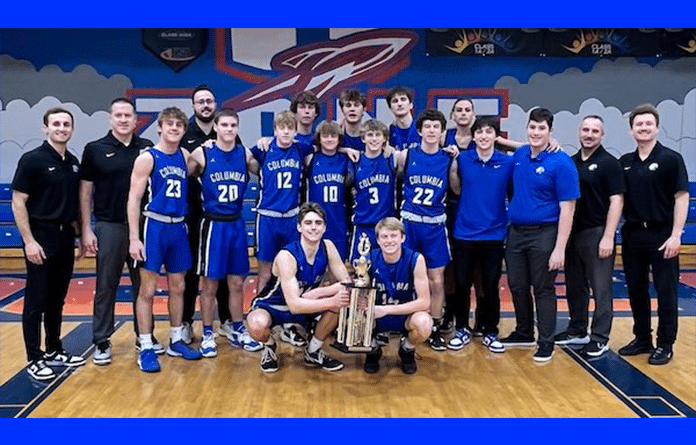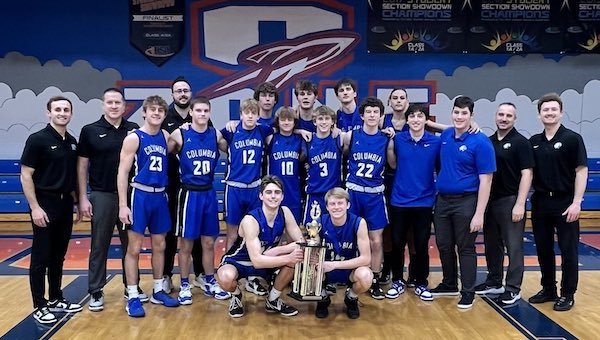 The Columbia High School boys basketball squad won its third tournament of the season with a 59-48 victory over Wesclin in the championship game of this year's Okawville Invitational Tournament on Saturday.
The Eagles (22-2) have now won 14 straight games. 
Columbia pulled away late on Saturday, outscoring Wesclin 23-15 in the fourth quarter. Jack Steckler, a senior, led the Eagles with 18 points. He was named to the all-tournament team along with teammates Dylan Murphy and Sam Donald.
On Friday, Columbia advanced to the tourney final by virtue of a 65-48 victory over Marquette. Steckler and Murphy each poured in 17 points and Donald (16 points, nine rebounds, eight assists) nearly had a triple-double.
Columbia opened tourney play with a 64-51 win over Carlyle last Tuesday. Steckler and Murphy each scored 18 points and Donald added 17.
Columbia head coach Mark Sandstrom is proud of his team's solid start and hopes the best is yet to come.
"We have a bunch of kids who love basketball and they are super competitive," Sandstrom said. "They prepare well and watch game film all of the time. They are very knowledgeable about their opponent going into a game. And, we are also able to play a variety of different ways and have numerous different people that step up on a nightly basis."
Sandstrom praised the "big three" of Murphy, Steckler and Donald by saying they are "as a good of a trio in the metro east and Southern Illinois."
Murphy is averaging 18.7 points per game – including 42.6 percent from three-point range and nearly 77 percent from the free throw line.
Steckler is averaging 12.4 points per game and is shooting 77.3 percent from the charity stripe.
Donald is averaging 13 points, nearly seven rebounds, 4.35 assists, nearly two steals and 1.3 blocks per contest.
"All three of them have the capability of getting 20 (points) on a given night and really balance each other well," Sandstrom said. "All three have shown the ability to take over a game."
Sandstrom added that his team is more than just those three players, however, mentioning teammates Hayes vanBreusegen, Logan Bosch, Brady Hemminghaus, Brody Landgraf and Micah James.
"We have a bunch of guys who buy into their roles of being great teammates and doing what is necessary to help our team be successful," he said. "We look forward to getting better and want to be playing our best ball at the end of February. We want to add some postseason hardware as well."
Columbia hosted rival Waterloo on Tuesday night, winning 63-45. The Bulldogs led 13-11 after the first quarter, but Columbia proved too strong in the end. Murphy scored 17 points – including a basket that gave him 1,000 career varsity points. Donald added 15 points, 11 rebounds and six assists.
Columbia plays Friday at Salem and travels Tuesday to Civic Memorial.  
Gibault (19-4) had its eyes on making the Okawville tourney final as well, but dropped a 71-60 contest to Wesclin in the semifinals on Friday. The Hawks trailed 19-10 after the first quarter and just could not make up the difference.
Gavin Kesler led Gibault with 19 points.
On Saturday, Gibault downed Marquette for the second time this season – this time in overtime. The Hawks won 60-50 for third place. Kesler, who made the all-tourney team, again led the way with 22 points and eight rebounds. Kaden Augustine added 18 points.
The Hawks opened the tourney last Monday with an easy win over Okawville.
Gibault plays Saturday at Red Bud before hosting Valmeyer this coming Tuesday.
Augustine leads the Hawks in scoring this season at 16.1 points per game – including 42 percent shooting from three-point range.
Kesler is averaging 15.5 points and 6.5 rebounds per contest and is shooting 73 percent from the charity stripe.
At the Sparta Mid-Winter Classic, Waterloo (6-17) dropped three of four games. 
The Bulldogs dropped a 51-48 contest to Red Bud on Friday, followed by a 69-45 loss to Lovejoy on Saturday.
Caleb Yochum led the 'Dogs with 18 points against Red Bud. Wyatt Fink added 13 points and Alex Stell contributed 12 points and 10 rebounds.
Stell led Waterloo in Saturday's loss with 15 points and 11 rebounds, although the 'Dogs were outrebounded 42-25 in that game.
On Thursday, Waterloo won 45-30 over Trico. Stell had 14 points and 10 rebounds.
Waterloo opened tourney play with a 57-43 loss to Freeburg. Fink scored 16 and Reid Metzger added 13 points for the Bulldogs.
Fink scored 25 points in Tuesday's loss at Columbia.
Waterloo travels Friday to Mascoutah and plays Tuesday at Granite City.
Stell is averaging 13.6 points and 10.3 rebounds per game this season. Fink is averaging 12.3 points per game.
Valmeyer (4-13) fell at home on Friday to rival New Athens, 66-55. The Pirates fell flat late, outscored 18-4 by New Athens in the fourth quarter.
Harry Miller scored 22 points to lead Valmeyer. Aidan Crossin added 16 points.
Miller is averaging 23 points per game this season – including 73 percent shooting from the free throw line.
Valmeyer hosts Maryville Christian on Thursday, plays Friday at Marissa, Monday at St. Pius and Tuesday at Gibault.
Dupo (3-9) plays Monday at KIPP St. Louis.