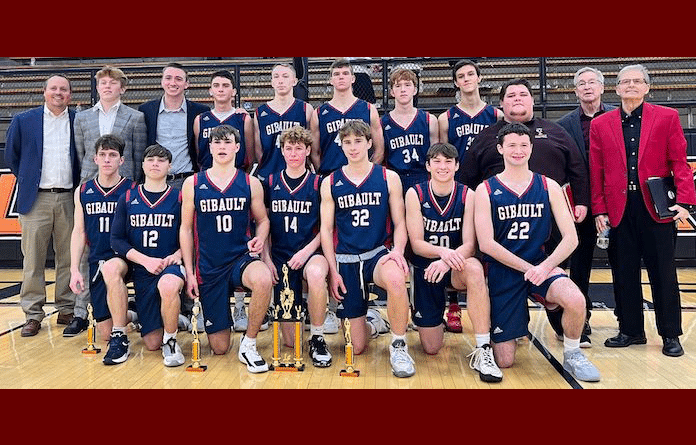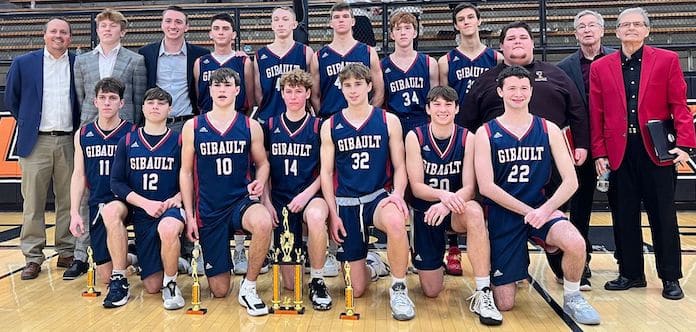 Two of the hottest high school basketball teams in the St. Louis region are from Monroe County, and both continued their recent winning ways.
Gibault (18-3) escaped with a 41-39 victory Saturday night over Chester to win the Chester Invitational Tournament championship for the second straight year.
Gavin Kesler led the Hawks with 19 points and seven rebounds. Kaden Augustine was named tourney MVP. Gibault trailed 12-7 after the first quarter.
Gibault advanced to the tourney final by virtue of a 50-41 win over Saxony Lutheran last Wednesday. Augustine scored 20 points and Kameron Hanvey added 13 points in the victory.
Gibault kicked off the Okawville Invitational Tournament with a 53-27 victory Monday night over the host squad. The Hawks went on a 29-8 run in the second half to pull away.
Kesler scored 17 points and Augustine added 13 for Gibault, which continues tourney play Friday against Wesclin.
Augustine is averaging 16 points per game and Kesler is right behind him at 15 points per contest.
The tourney, of which Columbia is also a participant, concludes Saturday night.
Columbia (18-2) has now won 10 straight. The Eagles blasted Wood River at home Friday night, 81-36, then edged Cahokia at home Saturday afternoon, 59-57.
Dylan Murphy led the Eagles with 19 points and nine rebounds Friday and 21 points and nine rebounds Saturday.
The Eagles opened Okawville tourney play Tuesday night against Carlyle and will play again Friday with a win or Thursday with a loss.
Last Tuesday, Columbia won 58-26 at home over Vandalia. Sam Donald led the way with 18 points, six rebounds and four blocks. Murphy added 12 points and seven rebounds.
Murphy is averaging 19.1 points per game this season – including 44 percent shooting from three-point range.
Donald is averaging 12.6 points, nearly seven rebounds and 2.2 steals per contest.
In other boys hoops action, Waterloo (5-13) lost 55-15 at home to Triad on Friday night and 71-39 to Vianney at Althoff on Saturday.
The Bulldogs were playing without 6-foot-9 sophomore Alex Stell, who leads the team in scoring and rebounding. Stell suffered a sprained ankle but is hopeful to return to action this week.
Last Tuesday, Waterloo won 53-44 over Steeleville.
Waterloo opens Sparta Mid-Winter Classic play Wednesday against Freeburg, battle Trico at 7 p.m. Thursday and play Red Bud at 7 p.m. Friday.
The Bulldogs play 7:30 p.m. Tuesday at rival Columbia.
Wyatt Fink is averaging 11.7 points and six rebounds per game this season.
Valmeyer (4-12) dropped a 72-52 game to Grandview on Monday. Harry Miller scored 16 points and Luke Blackwell added 11 points and 10 rebounds.
The Pirates ended Chester tourney play Saturday with a 67-62 loss to Perryville despite a career-high 39 points from Miller before fouling out. He made seven three-pointers in the game.
Last Wednesday, Valmeyer lost 78-50 to Lovejoy in the tourney. Miller scored 30 points and grabbed five rebounds.
Miller, a senior, is averaging 23 points and more than three steals per game this season.
The Pirates host New Athens this Friday for VHS Athletic Hall of Fame Night.
Dupo (3-9) lost 51-15 to Marissa on Friday.
The Tigers play Wednesday at Metro before hosting Red Bud this coming Tuesday.
Top players for Dupo this season are senior Trey Chadduck and freshman Deegan Prater.