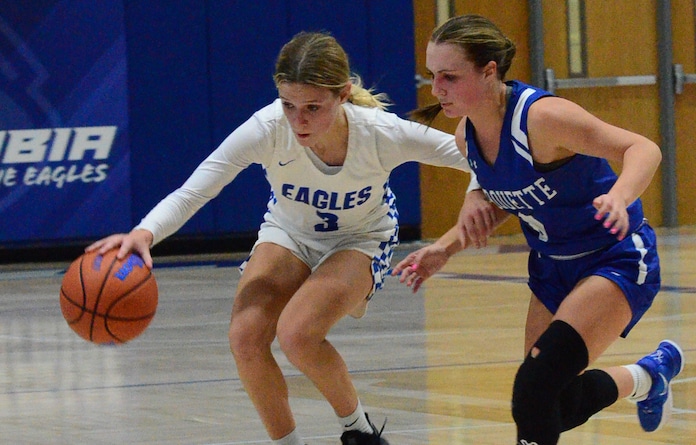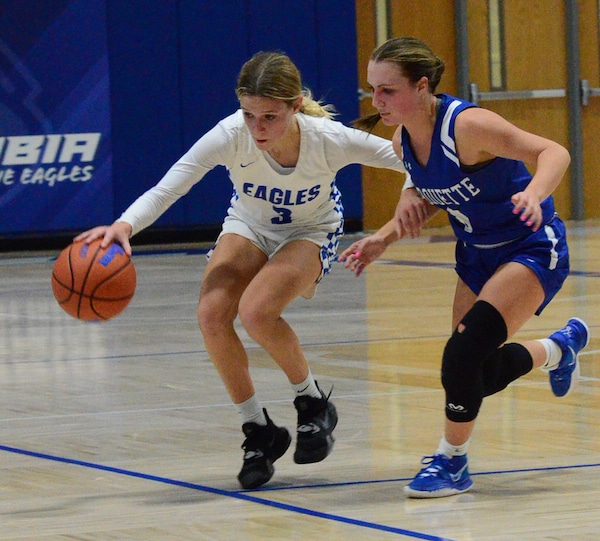 The high school girls basketball season has entered the final stretch as local squads jockey for playoff positioning.
Columbia (15-7) posted recent victories as it preps for rivalry games over the next few days.
On Monday, the Eagles won 53-37 over Granite City despite trailing 13-8 after the first quarter. Jordan Holten led the way with 24 points and seven rebounds. Karsen Jany contributed 20 points and six steals.
On Thursday, Columbia won 67-26 over Wood River. Holten, a sophomore, again led the Eagles in scoring with 23 points. Jany added 19 points and seven assists.
Jany is averaging 17.6 points, 7.4 rebounds and more than three steals per game this season for Columbia.
Holten is averaging nearly 13 points per game to go along with nine rebounds per contest.
Columbia hosts Dupo on Thursday before playing host to Monroe County rival Waterloo this coming Tuesday night.
Waterloo (14-7) is playing in the Highland tournament this week.
The Bulldogs opened tourney play Saturday with a 53-43 defeat at the hands of Teutopolis. Norah Gum scored 19 points and Sam Lindhorst added eight points, 12 assists and eight steals for Waterloo.
On Monday, Waterloo continued tourney play with a thrilling 47-46 win in overtime against Triad. Gum poured in 22 points and grabbed nine rebounds.
Lindhorst, already the program's career steals and assists leader, scored 15 to reach 1,000 career points.
Lindhorst, a four-year starter for the 'Dogs, averages 11 points, 5.1 assists and nearly four steals per game this season.
Gum, also a four-year starter who eclipsed 1,000 career points earlier this season, is averaging 19.5 points and nine rebounds per game this season.
Waterloo continues Highland tourney play Wednesday against Collinsville.
On Thursday, Waterloo downed Triad in a conference contest, 44-27. Gum again led the way with 16 points and 10 rebounds.
Gibault (13-6) dropped a 32-30 contest in overtime to Roxana last Wednesday. The Hawks host Althoff on Thursday.
Dupo (9-8) posted a 21-19 victory at Marissa on Thursday despite committing 24 turnovers in the game.
Following Thursday's showdown at Columbia, the Tigers play Monday at First Baptist.
Valmeyer (5-12) lost 44-40 at New Athens on Thursday. The Pirates were outscored to the tune of 36-20 in the second half.
Brooke Miller led Valmeyer with 18 points and 12 rebounds.
She is averaging nearly 15 points per game to go along with 8.4 rebounds and 2.82 blocks per game this season.
Valmeyer plays Monday at Red Bud.