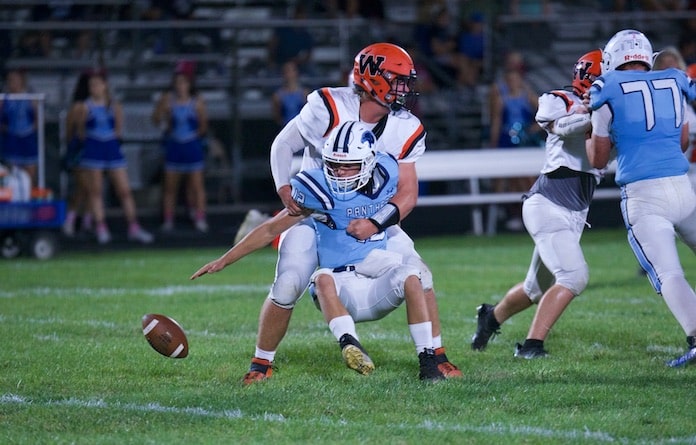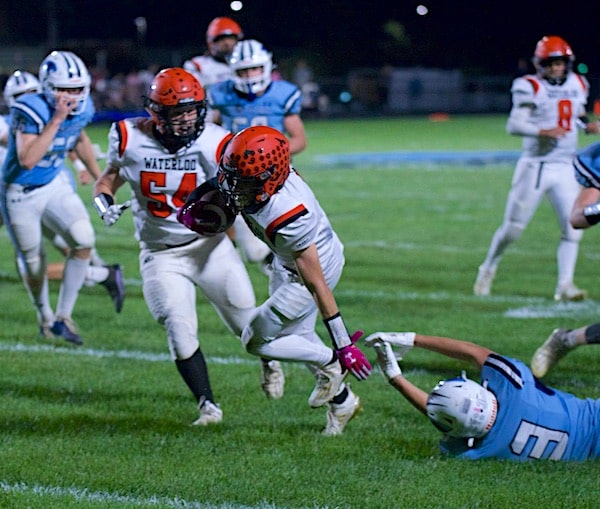 The Waterloo High School football team picked up a big Mississippi Valley Conference road victory Friday night at Jerseyville, winning 48-22.
The Bulldogs were down 8-0 in the early going as Jerseyville's Chase Withrow scored on a 44-yard run and the two-point try was successful.
Waterloo answered with two first quarter scores, the first on a Jack McFarlane 19-yard run at 6:27 and then a short Aidan Morrow quarterback keeper at 3:53.
The second quarter was the "Ethan Horvath Show" for the Bulldogs.
He caught a seven-yard TD pass from Morrow at 4:27, and then caught a 47-yard TD pass with just under two minutes left in the first half. The 6-foot-4 senior has turned into a top receiving target for the Bulldogs this fall.
Waterloo led 27-8 at halftime.
"Ethan made two nice catches," Waterloo head coach Dan Rose said. "One was on a fade and the other on a post."
Evan Davis, this week's Republic-Times Athlete of the Week, scored on runs of five and 19 yards in the third quarter to counter two Jerseyville TDs in the frame. Davis finished with 125 yards on 16 carries.
Davis finished the game with 125 yards on 16 carries. For the season, Davis has 725 yards rushing and 11 TDs.
"He carries a lot for the tough yards," Rose said.
A McFarlane TD run of 75 yards early in the fourth quarter put the icing on the cake for the Bulldogs.
For the game, McFarlane ran for 155 yards on seven carries and added five receptions for 64 yards.
The speedy senior has 402 yards on the ground to go along with 145 yards receiving this season.
Wyatt Fink recorded two sacks for Waterloo's defense.
"Our defense played pretty well. They had a solid game," Rose said.
The Bulldogs lost Max Mitchell, a junior who was one of the team's top defenders, for the season with a leg injury in the contest.
Morrow, a junior, was 8-of-11 passing for 135 yards and two TD throws. For the season, Morrow has thrown for 627 yards and five TDs with no interceptions.
Waterloo (3-3) plays this Friday night at Highland (2-4) in another key MVC showdown.
Rose said Highland's record is deceiving, as their losses have come at the hands of teams like Edwardsville and Marion.
"We expect them to run a wide open offense," Rose said. "Ball control is key. We need to keep their offense off the field."