Bulldogs blank Eagles in rivalry game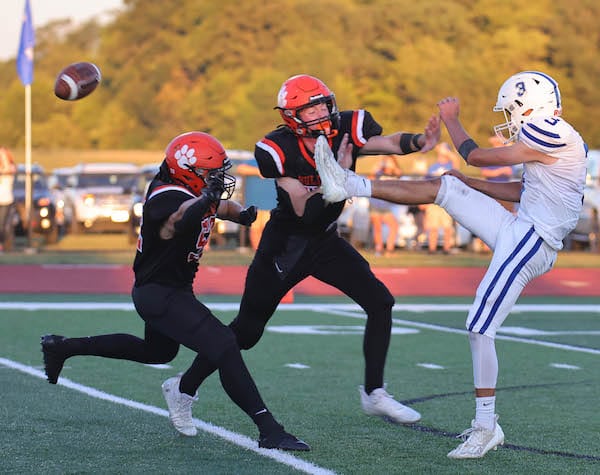 For the second straight year, one team was shutout in the annual Route 3 Rivalry high school football showdown between Waterloo and Columbia.
Last year, the Eagles won 9-0 at home over the Bulldogs. This time, Waterloo returned the favor with a 14-0 home victory on Friday night.
Two early touchdowns by the Bulldogs were all the points mustered in this year's rivalry match.
Waterloo sophomore running back Derez Sayles – this week's Republic-Times Athlete of the Week – ripped off a solid run and 15 more yards were tacked on for a facemask call against the Eagles. That put the ball at Columbia's 16 yard line. A few plays later, Sayles punched in it from two yards out to put the 'Dogs up 7-0 with just under nine minutes left in the first quarter.
The other touchdown was scored with just more than nine minutes remaining in the first half when Waterloo senior quarterback Koby Osterhage finished a drive courtesy of a two-yard sneak to make it 14-0.
That was the score at halftime.
Both defenses held strong in the second half, as neither offense could put up any points.
Waterloo's defense in particular made it difficult for Columbia to do much of anything all night, frequently getting to and sacking Eagles junior quarterback Mason Voegele. He was only able to run for seven yards on 12 carries and also threw for 57 yards.
In fact, Columbia rushed 25 times on the night for a grand total of just four yards.
A bit of controversy ensued with about eight minutes remaining in the fourth quarter.
During an Eagles punt, Waterloo's returner signaled for a fair catch near the Columbia sideline but appeared to have dropped the ball. A quick whistle by one of the referees blew the play dead – even though play should have continued until there was a clear recovery of the football by either team.
Fortunately for Columbia, Waterloo was unable to capitalize and soon punted the ball back to the Eagles anyway.
A last-ditch effort by Voegele and Columbia to drive for a score came up empty, and the Bulldogs celebrated with the student section and band at midfield.
Sgt. Kyle Scott presented Waterloo head coach Dan Rose with the annual Route 3 Rivalry trophy for his team's shutout victory.
Sayles finished with 88 yards rushing and 11 yards receiving on the night for the Bulldogs.
Osterhage ran for 67 yards and threw for 21 yards.
Leading the way on defense for the 'Dogs was Harrison Bartosik with six tackles and five assists. He had one sack and also a fumble recovery.
Columbia's defense was led by Broedy Furlow, who had 10 tackles and two assists.
It wasn't all bad news for Columbia on Friday night – the Eagle won the annual mascot race over the Bulldog for the second straight year.
Waterloo (1-1) will play at 6 p.m. Friday at home against two-time defending Missouri Class 4 state champion St. Mary's. The Dragons are off to an 0-2 start this season, having lost to Saint Louis University High and Hazelwood East. The site of friday's game was changed from St. Louis.
Columbia (0-2) hosts Taylorville this Friday. The Tornadoes come to town with a 2-0 record, having won against Richland County and Robinson.
See our photo album from the game by clicking here.