Soccer rivalry goes into PKs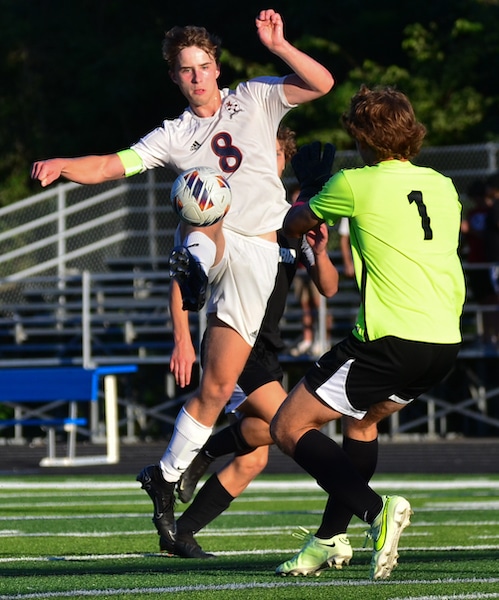 chool soccer rivals went to penalty kicks Thursday night at Columbia High School, with the host Eagles edging the Gibault Hawks, 3-2.
Micah James and Carson Mueth netted the regulation goals for Columbia.
For Gibault, it was Gavin Kesler and John Bollone touching the twine.
Columbia goalie Brady Hemminghaus made 11 saves. Gibault goalie Andy Altes made nine saves.
The two teams meet again this coming Tuesday on the turf at CHS, as the Hawks will look to get revenge.
Last Wednesday, Columbia (3-0-1) battled to a scoreless tie with Mascoutah. Hemminghaus made eight saves for the Eagles to preserve the shutout.
Columbia hosted Breese Central on Tuesday, plays Wednesday at Granite City, then hosts Belleville East on Thursday and Althoff on Monday before taking on the Hawks once again.
Gibault (0-3) followed up the loss in PKs on Thursday with a 4-1 defeat Saturday at O'Fallon. Kesler scored the goal for the Hawks.
Last Tuesday, Gibault opened its season with a 2-0 loss at Marquette. The match was scoreless at halftime.
Altes made 12 saves for the Hawks.
Gibault hosted Freeburg on Tuesday, plays Thursday at Edwardsville and then hosts Belleville West at 11:30 a.m. Saturday.
On Monday, Gibault plays at Breese Central.
For Waterloo, Althoff made a first half goal hold up in a 1-0 victory over the Bulldogs on Monday night. Storms delayed the start of the contest to 7:45 p.m., and then much of the second half was played in the rain.
Althoff goalies saved nine shots on the night.
Waterloo (5-1) won 1-0 at Father McGivney on Thursday. Brenden Eschmann netted the game's only goal.
Dallas Stueve made five saves in net for the Bulldogs.
Last Wednesday, Waterloo posted a 4-3 victory over Freeburg. The Bulldogs trailed 2-0 at halftime but turned it around in the second half.
Caeden Wille netted a hat trick and Grant Eugea had two assists for the Bulldogs.
Waterloo played at Civic Memorial on Tuesday winning 4-0, hosts Jerseyville on Thursday, hosts Mt. Vernon on Monday and hosts Mississippi Valley Conference rival Triad on Tuesday.
Valmeyer is still searching for its first win of the season.
The Pirates (0-3) dropped a 1-0 heartbreaker in overtime at home to Carlyle last Wednesday.
Jake Coats made three saves in net for the Pirates, who pelted Carlyle goalie Matthew Guthrie with shots all game.
Guthrie made 18 saves for the shutout.
Xavier Smither made eight shots and Ripken Voelker had seven shots for Valmeyer, which hosts Wood River this Thursday.