Busy time for volleyballers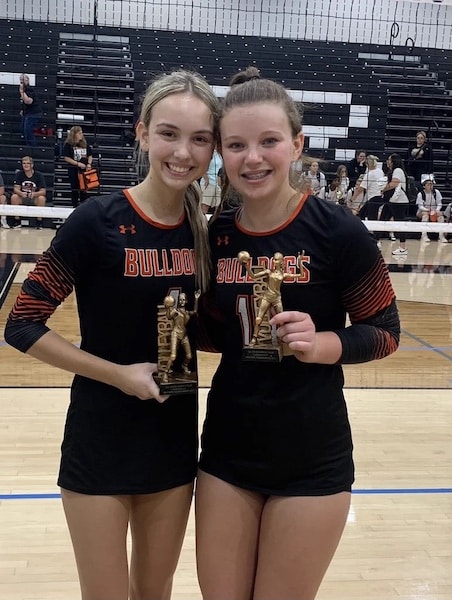 Local high school volleyball squads have been busy in the early going of the fall season, getting plenty of matches under their belts.
After starting 0-2, Waterloo has crept above the .500 mark at 5-4 thanks to a strong showing Saturday in the Carbondale Tournament.
Prior to the tourney, the Bulldogs picked up a 25-14, 25-17 victory over Okawville last Wednesday at home.
On Thursday, Waterloo lost 14-25, 25-23, 19-25 to Althoff.
Following an opening round loss to Herrin at Carbondale, the Bulldogs rattled off wins over Cahokia, Carbondale and Anna-Jonesboro. Waterloo then avenged its earlier loss, taking down Herrin by the score of 17-25, 25-21, 15-7.
Kenzy Koudelka and Emerson Horvath were named to the all-tourney team for the Bulldogs.
Waterloo played Tuesday at Mater Dei and will host Civic Memorial on Thursday.
Columbia is off to a 8-2 start to its season.
Last Tuesday, Columbia posted a 25-17, 25-14 win over Civic Memorial. Elliana Ames and Claire Sandstrom collected six kills each.
The Eagles won 21-25, 25-14, 25-17 at Salem on Thursday. Ames had four kills and five blocks. Ava Mathews contributed six kills and nine assists.
Columbia played in the Edwardsville Tournament over the holiday weekend, going 3-2.
The Eagles won against Staunton, O'Fallon and Highland before closing with losses to Lincoln and Breese Central.
Mathews leads the team in kills this season with 55; Ames leads in blocks with 27.
Columbia defeated Wood River on Tuesday and will try to get revenge against Cahokia Conference foe Breese Central at home on Thursday.
Gibault (6-3) split two recent matches.
Last Tuesday, the Hawks won 25-19, 25-7 at home over Metro East Lutheran. Kamille Grohmann had 17 points and Lucy Range recorded six kills and nine assists.
On Thursday, Gibault dropped a 25-12, 25-20 match at Wesclin. Kate Kreps led the way with 10 points for the Hawks.
Kreps and Range are tied for the team lead with 44 points on the season, with Range also leading in kills (45) and assists (53).
The Hawks hosted Collinsville on Tuesday, then play Wednesday at Okawville and Monday at Granite City.
Valmeyer (6-1) posted a 25-12, 25-17 victory last Tuesday at Sparta. Brooke Miller finished with nine kills and seven blocks for the Pirates.
Miller, a senior, leads the team this season with 67 kills and 32 blocks.
Another senior, Mia McSchooler, leads the team with 61 points and 98 digs.
Dupo (1-6) won its first match of the season last Wednesday, 25-15, 25-8 at Madison. Allison Taylor scored 15 points for the Tigers.
Dupo hosted Marissa on Tuesday, hosts New Athens on Thursday and then hosts Wood River this coming Tuesday.