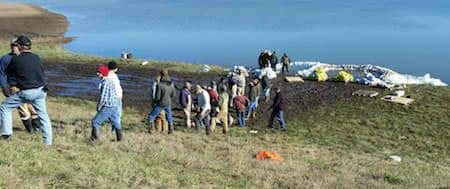 With the threat of major flooding decreasing by the day, the Monroe County Emergency Management Agency is now focused on working with the Illinois EMA to assess local damage as a required step in case disaster funding is allocated.
The Mississippi River crested Thursday afternoon at 42.58 feet on the St. Louis gage, which is exactly seven feet lower than the record set during the Flood of 1993. The river had already receded to 38.7 feet on Sunday morning — lower than the 40-foot level that is considered "major flood stage."
In Chester, the river crested at 46 feet on Saturday, just below the record 49.7-foot reading set there in 1993. The river measured at 44.5 feet on Sunday.
Using the volunteer efforts of area firefighters and other helpers, Monroe County EMA and levee district officials from throughout the county joined together to address what were classified as minor levee issues over the weekend such as sand boils. Volunteers used sandbags to contain sand boils in the Harrisonville area south of A Road and also near KK Road over the weekend. Sand bags were filled at Rock City.
"Although we are not out of the woods yet, the river is going down. The sand boils are being monitored and contained. I cannot thank nor compliment the levee commissioners, road commissioners, Valmeyer, Waterloo, Columbia and Maeystown fire departments, the Monroe County EMA, and all the many volunteers enough for the work those groups have done to maintain our levees," Valmeyer Mayor Howard Heavner stated in a post on Facebook.
The Monroe County EMA will submit an Individual Disaster Assessment along with documentation of public assistance that has been provided during this latest flood incident.
Property owners with damage related to flooding are asked to contact the Monroe County EMA office at the Monroe County Courthouse by calling 939-8681, ext. 231. Residents are asked to do this as soon as possible, as the EMA hopes to submit the proper paperwork by the end of this week. If you receive an answering machine, leave your name, phone number and location of damaged property. You will be contacted in a timely manner.
Property owners are asked to submit their information by no later than Wednesday, Jan. 6.
Monroe County EMA Director Ryan Weber stressed that at this time, there are no local, state or federal funds allocated for recent flood damage.
"However, in the event an appropriation is made, the damage assessments and documentation forms are required and the county will have all the paperwork already completed," Weber said.
To read our earlier coverage of the local flood situation, click here.