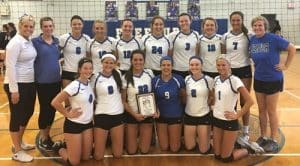 The dream of a perfect season continues for the Columbia High School volleyball squad, which won six more matches over the past week to improve to 32-0 as postseason play approaches.
Last Tuesday, the Eagles hosted Freeburg and emerged victorious after two hard-fought sets, 27-25, 25-22. Colene Hamilton finished with 15 kills; Jordan Hausmann added 10 kills.
On Saturday, Columbia crushed through the Monster Mash tournament in Freeburg, defeating Collinsville (25-15, 25-9), Christ Our Savior Lutheran (25-5, 25-2), Waterloo (25-14, 25-13) and Chester (25-3, 25-16).
Hamilton starred again for the Eagles, recording 14 kills against Waterloo and eight kills against Chester. She reached 1,000 career kills over the weekend, becoming just the third player in school history to accomplish the feat. Sammi McCloud (2005) and Anna Eytchison (2007) are the others.
"(That's) a very special award," Columbia head coach Kelly Landgraf said.
Hamilton and Hausmann were both named to the all-tourney team. Hausmann had nine kills and two blocks against Collinsville and seven kills against Chester.
Elizabeth Fleming also had a good tourney, finishing with 15 points against Christ Our Savior, 25 assists against Waterloo and 15 assists against Chester.
"This is the team's fourth tournament win of the season," Landgraf said. "This weekend was a team effort. Each girl contributed."
On Monday, the Eagles lost a set for the first time since Aug. 25 at Althoff, but rallied to win the second and third sets for a thrilling victory at O'Fallon, 18-25, 25-21, 25-18.
Hamilton finished with a career high 22 kills; Hausmann added 11 kills and six blocks. Fleming finished with a whopping 43 assists. Alyssa Yochum had six kills and four blocks.
"Kelly Metter, Ellie Stone and Blair Wittenbrink were key in the defensive effort," Landgraf added.
Columbia hosted Collinsville on Tuesday to conclude the regular season and will play the winner of Triad vs. Breese Central this coming Tuesday to begin regional play on their home court. The regional final is Oct. 27.
Also in the Class 3A Columbia Regional is Waterloo (19-8), who went 3-3 in recent play.
The Bulldogs lost a close battle with conference foe Mascoutah last Tuesday in three sets before topping Triad on Thursday, 26-24, 25-17. Kathryn Finnerty led the way with seven kills and four blocks. Hannah Cope added 11 assists.
On Saturday, Waterloo went 2-2 in the Monster Mash tourney, winning against Nashville and Teutopolis but dropping contests against Columbia and Freeburg.
Waterloo played Highland on Tuesday and will close the regular season against Collinsville on Thursday.
Waterloo will open regional play against Cahokia on Monday. With a win, the Bulldogs would battle Freeburg on Tuesday for a date in the final.
In Class 2A, Gibault will compete in the Chester regional and will play the winner of Sparta vs. Trico on Tuesday. The regional final is Oct. 27.
The Hawks are 15-12 following a Monday night win at Valmeyer in a pink-themed "Volley for the Cure" contest for breast cancer awareness. Kelly Dooley had 14 kills and Hillary Wessel had 17 assists for the Hawks.
On Saturday, Gibault went 2-2 in the Monster Mash tourney. The Hawks defeated Marquette in three sets and Teutopolis in two sets but lost to Chester and Benton. Dooley played well in the tourney, as did Bailey Lehmann and Mary Wessel.
In Class 1A, Valmeyer (16-14) hosts a regional that begins Monday. The Pirates open with a match against Steeleville on Oct. 25. The regional final is set for Thursday, Oct. 27.
Blair Brady (13 assists) and Savannah Williams (10 points) were the bright spots for the Pirates in Monday's loss at home to Gibault.
Still, the match meant more than who won or lost.
"It is an event that means a lot to the girls," Valmeyer head coach Jenny Kohnz said.
"Teaching our young girls about the importance of early detection and making sure they do regular checks is an important part of breast cancer awareness. Our young male students also are great participants, realizing that breast cancer isn't just exclusive to females. We also take a moment of silence to honor those that have lost their battle with breast cancer."
As for the match, Kohnz said her girls came out strong but couldn't finish.
"We have had a lot of trouble this year finishing," she said. "We tend to win the first match and then relax and lose the second match. This is something we need to work on and become more mentally tough."
On Thursday, the Pirates won at Dupo, 25-14, 25-23. Sam Seidel led the way with seven kills.
Valmeyer plays Steeleville and Lebanon this week, needing to win both to win the conference.