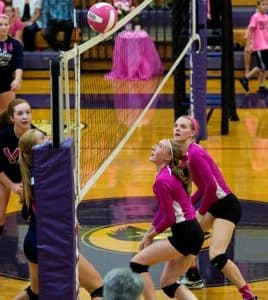 High school volleyball teams are hoping to hoist hardware later this week as regional play gets underway.
In Class 3A, Waterloo and Columbia are competing in the Columbia Regional and will meet in the final.
The Bulldogs opened regional play Monday with a 25-10, 25-14 victory over Cahokia.
Waterloo (23-8) defeated Freeburg on Tuesday for the right to play in Thursday's final.
Waterloo ended its regular season with wins over Highland on Oct. 18 and Collinsville on Oct. 20. Skylar Geske had 12 points in each match; Finnerty had nine kills in each match.
Sam Kruse added nine kills against Highland.
Columbia (34-0) completed a perfect regular season by toppling Collinsville at home on senior night last Tuesday, 25-10, 25-16. Elizabeth Fleming finished with eight points. Colene Hamilton added seven blocks.
The Eagles opened regional play against Breese Central on Tuesday, winning 25-7, 25-18 to make the final.
The winner of Thursday's regional title game will advance to the Mascoutah Sectional, which begins Nov. 1.
In Class 2A, Gibault opened play in the Chester Regional on Tuesday against Sparta, winning in three sets. The Hawks (17-17) will face either Chester or Red Bud in the final on Thursday.
The winner advances to the Pinckneyville Sectional on Nov. 1.
Gibault ended its regular season with losses to Freeburg in two sets on Oct. 19 and Chester in three sets on Oct. 20 before going 2-3 in the Mount Pulaski tournament over the weekend. In the tourney, the Hawks defeated Illini Central and Mount Pulaski, but lost to Stewardson-Strasburg, Lincoln and Edwards County. Two of those losses came in three sets.
Kelly Dooley performed well in the tourney, finishing with 21 kills against Edwards County and 13 kills against Mount Pulaski.
Also in Class 2A, Dupo ended its season with a 25-9, 25-10 loss to Nashville in the Carlyle Regional on Monday. The Tigers finished the season with a record of 7-22.
Skylure Barlow led Dupo in service points and assists this season. Megan Brown led the team in kills and blocks.
In Class 1A, Valmeyer hosts its own regional and opened with a match Tuesday against Steeleville. The Pirates would play Thompsonville or Elkville for the regional title on Thursday.
The winner of the regional final advances to the Crab Orchard Sectional on Nov. 1.
Valmeyer (18-14) topped Steeleville on Oct. 18, 25-19, 25-21. Jordyn Killy led the way with 11 kills. Guin Kohnz added 17 assists.
On Oct. 20, the Pirates clinched the Kaskaskia Division championship with a 25-13, 25-11 win over Lebanon.
Killy leads the team in kills and blocks this season.