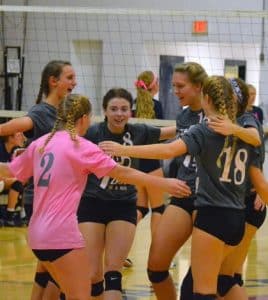 The postseason push is on for local high school volleyball teams, as regional play is set to start in two weeks.
In observance of October as Breast Cancer Awareness Month, the Waterloo and Gibault volleyball teams sported pink-themed uniforms Thursday night and played in honor of those affected by cancer.
While the Bulldogs defeated the Hawks in two sets, the real winner was cancer research, as money raised from a raffle and silent auction during the game will be donated to those efforts.
Skylar Geske turned in a stellar match, finishing with nine service points. Kat Finnerty added four kills and Hannah Cope had 11 assists for Waterloo.
Gibault was led by Kelly Dooley and Bailey Lehmann with six kills apiece. Hillary Wessel contributed 14 assists.
Last Tuesday, the Bulldogs defeated Civic Memorial in two sets, 25-18, 25-16. Sam Kruse led the way with 10 kills. Cope added 24 assists.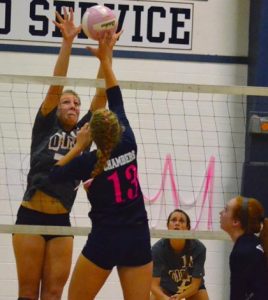 Waterloo (16-5) hosted Mascoutah on Tuesday. The Bulldogs have won 11 of their past 12 matches.
Gibault (11-10) played at Marquette on Tuesday. Prior to the cross-town showdown with Waterloo, the Hawks dropped a match last Tuesday against Mater Dei, 25-14, 25-14.
In other volleyball action, Columbia keeps rolling along at 26-0 following an easy victory over Wesclin on Thursday, 25-7, 25-10. Colene Hamilton finished with 10 kills. Alyssa Yochum added six kills and five blocks. Elizabeth Fleming added 14 service points for the Eagles, who hosted Freeburg in a "Dig Pink" contest on Tuesday.
Last Tuesday, the Eagles won at Red Bud in two sets, 25-17, 25-21. Hamilton led the way with 13 kills, followed by Jordan Hausmann with 10 kills and Yochum with seven kills and five blocks.
Valmeyer (16-11) lost to New Athens on Thursday, 25-23, 21-25, 23-25. Blair Brady led the way for the Pirates with 10 kills. Jordyn Killy added seven kills and three blocks. Guin Kohnz added 12 assists.
The Pirates will play at Dupo on Oct. 13 before hosting a "Dig Pink" contest of their own on Monday against Gibault. Fans are encouraged to wear pink in support of the cause.
Last Tuesday, Valmeyer defeated Marquette in two sets, 25-18, 25-14. Sam Seidel had nine kills. Killy added eight kills and four blocks.
Dupo is 7-14 on the season following a loss last Wednesday to Granite City, 25-15, 25-15. The Tigers played at Steeleville on Tuesday.
Regional pairings set
The IHSA released the regional playoff schedule last week.
In Class 3A, undefeated Columbia hosts a regional and will play the winner of Triad vs. Breese Central on Oct. 25. Cross-county rival Waterloo is also in this regional and will open against Cahokia on Oct. 24. With a win, the Bulldogs would battle Freeburg on Oct. 25.
In Class 2A, Gibault will compete in the Chester regional and will play the winner of Sparta vs. Trico on Oct. 25.
Also in Class 2A, Dupo is in the Carlyle regional and will play against Nashville on Oct. 24.
In Class 1A, Valmeyer hosts a regional that begins Oct. 24. The Pirates open with a match against Steeleville on Oct. 25. The regional final is set for Thursday, Oct. 27.