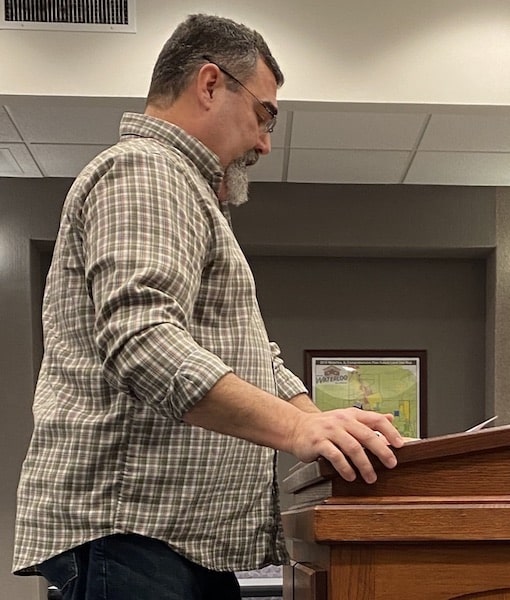 A police sergeant still seeking closure on his employment situation after months of being on disability leave addressed the Waterloo City Council again Monday night.
Sgt. Eric Zaber, who spoke at the March 6 council meeting, is wanting the City of Waterloo to award him Illinois Public Employee Disability Act benefits in resolution of multiple grievances he has filed alleging retaliation and discrimination while serving on active duty with the Waterloo Police Department.
Zaber filed for worker's compensation last June, but he said that request was denied. Then on Jan. 1, he said his pay was cut without notice.
The city has said it cannot discuss his employment situation, citing personnel matters.
Zaber began Monday night by acknowledging Mayor Tom Smith's sister Judi Horrell in the audience.
"According to your sister, I owe you something," Zaber told Smith, "for living rent free in your home."
"I didn't say that," Horrell interrupted.
Zaber told the Republic-Times after the meeting that he stayed at a home owned by the Smiths for about six months in 2016 and 2017 after being recruited by Smith and then-chief Mike Douglas to join the WPD from out of the area.
Zaber added he provided free labor in exchange during and after this stay.
"Apparently, she told me as well that 'she knows what I did,' which is the reason you are no longer paying me," Zaber added. "I'm wondering if there's information that's being discussed with your family members. This isn't the first time that this has happened or gotten back to me."
"No I'm not, Eric," Smith said in response to that comment.
"I don't owe you anything," Zaber countered.
As for the resolution of his employment with the city, Zaber said he felt like the city attorneys were sending mixed messages on the disclosure of medical records.
"In my opinion, it looks like we're going backward," Zaber said. "I will not sign any agreement like the one you offered and was denied by Dan Pittman, nor do I have any intentions of resigning."
Pittman, like Zaber, filed for disability last year and similarly filed grievances against the city.
"I have no confidence that anything of real value is going to be accomplished during your executive session," Zaber continued. "And why would I? For months, I've been asking the city to provide me with a simple signed document explaining the reason why my pay was stopped on Jan. 1 – or documentation of the disclosure of confidential information to the former police commissioners."
As previously reported, Norman Venable, Lonny Ludwig and Heather Garcia submitted letters of resignation to Smith on Jan. 20 and Jan. 22, respectively, from the Waterloo Police Board.
Documents obtained through the Freedom of Information Act indicated measures were made by the city to have the police commissioners take disciplinary action – including termination – against Zaber and Waterloo Police Officer Dan Pittman, after which the commissioners resigned.
Zaber closed by calling for this issue to be resolved.
"Tom, just make a decision," he said. "I'm ready for arbitration, and I assure you my medical records, coupled with the existing documents in your possession, will only strengthen the grievance. If the city would have done the right thing for the right reasons months ago, these grievances would have already been resolved. Time for a change."
Waterloo City Attorney Natalie Steppig then told Zaber the medical records he has provided as part of this process are "inadequate" and "not exactly what the city needs to be able to move forward in making a decision on your matter."
Zaber challenged that by asking if the city needs all of his medical records.
"Like my colonoscopy last year? Is that gonna be helpful? You're not going to get all of my medical records. Not all of them. You can have the ones I'm gonna agree to."
"We can't have you cherry-pick out the items that you believe are relevant to your case, unfortunately," Steppig replied.
After the meeting, Zaber told the Republic-Times that was probably the last time he plans to address the council on this matter.
"I've spoken my piece. I'll let it play out from here," he said. "Being a police officer has nothing to do with politics and nothing to do with being popular."