House fire near New Hanover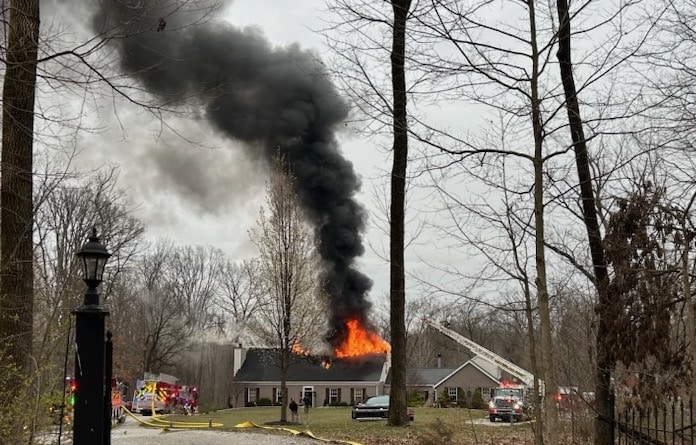 Multiple departments battled a large house fire late Tuesday morning at 20 Chesapeake Trail south of Columbia.
The owner of the residence called 911 at 10:55 a.m. to report he saw smoke coming from his home while looking at surveillance video.
He arrived home just prior to emergency personnel and reported flames shooting through the roof.
Columbia Assistant Fire Chief Jim Broshears said the man attempted to enter his home to save a pet cat and snake, but quickly abandoned that effort due to heavy flames observed inside.
The home was unoccupied at the time of the blaze, but the pets perished in the blaze.
"When he was inside he noticed most of the fire coming from the furnace area on the upper level," Broshears said.
While a cause of the blaze remains under investigation, it is believed the fire originated at or near that furnace.
The Office of the Illinois State Fire Marshal was contacted to assist in an investigation into a cause of the blaze, but Broshears said there was nothing that looked suspicious at the scene.
Assisting the Columbia Volunteer Fire Department at the scene included the Waterloo, Valmeyer, Millstadt, Prairie du Pont and Maeystown fire departments. Cahokia stood by at Columbia's engine house.
Firefighters remained on scene until early Tuesday afternoon, extinguishing hot spots.
The Monroe County Sheriff's Department and Columbia EMS also assisted at the scene.
The residence belonged to William and Laura Wilson.
Much of the large ranch style residence, other than the garage, sustained extensive fire, smoke and water damage, Broshears assessed.
"Some of the stuff is possibly salvageable," Broshears said. "Thankfully, it was insured."
It's been an unlucky streak for local firefighters, as this marks the third large house fire in as many weeks.
A large home was consumed by flames March 13 at 4103 LL Road east of Maeystown, with five local departments responding to that incident.
During the early morning hours of March 6, six departments battled an inferno that destroyed the large home of Skip and Lori Weber at 818 Charlotte Avenue in Columbia.