WHS wrestling advances 6 to sectional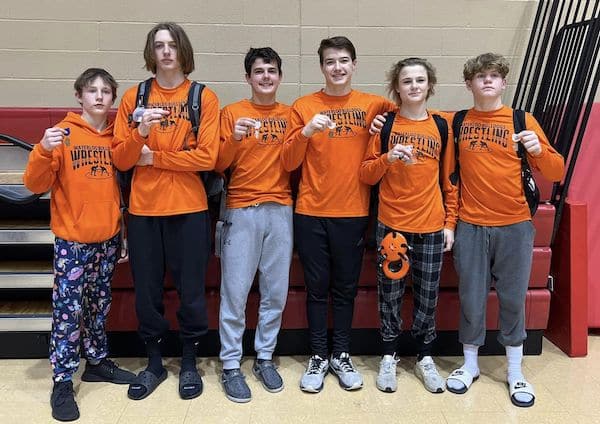 Waterloo High School advanced six wrestlers to the sectional round by virtue of strong performances at the IHSA Class 2A Centralia Regional on Saturday.
Konnor Stephens, a freshman, won a regional title at 106 pounds. His record is 19-8 this season for the Bulldogs.
He became the sixth regional wrestling champion for WHS in the past 10 years.
"He has such a passion for wrestling and you can tell that he is headed for greatness," Waterloo head coach Chase Guercio said. "He is a special kid who is always coachable and receptive on ways to improve his game."
Other Waterloo wrestlers qualifying for the sectional were sophomore Jackson Deutch (second place at 145 pounds), junior Brady Rose (third place at 160 pounds), junior Nathan Lloyd (third place at 170 pounds), sophomore Ty Kinzinger (second place at 113 pounds) and sophomore Bladen Sease (third place at 138 pounds).
"For Deutch, Kinzinger and Sease, this is the second time they have qualified for sectionals, so we are hoping that their past experience will pay off this weekend," Guercio said. "We also have the potential to have three kids with over 30 wins on the team, which is typically the mark of a really solid individual season. Those sophomores are all so competitive and each wants to end the season with the title of most wins. They have been neck-and-neck all year, and I am excited to see who comes out on top."
Deutch has a record of 31-17 on the season.
"Jackson is really our team leader in many ways. The other kids look to him to set the example, and he is a pleasure to coach," Guercio said.
Sease has a record of 32-9 this season.
"(He) has limitless potential in this sport and can go down as one of our school's best if he keeps working and stays on the mat in the offseason," Guercio said.
Kinzinger is 29-13 on the season.
"He is one of the best athletes in our school, and his toughness is so evident in all that he does," Guercio said.
The coach said Rose entered the regional as an unseeded wrestler and finished with his best weekend of the season.
"He upset a Marion wrestler in the third place match and is looking better than ever," Guercio said.
Lloyd, a first-year wrestler, is 19-20 on the season.
"Nathan is a kid I wish we could have had for four years," Guercio said. "He has evolved quickly into one of the leaders of our team and he is a super tough kid."
As a team Waterloo finished with a record of 16-10 in dual competitions.
"One thing that stood out to me (in the regional) was the toughness of our kids," Guercio said. "A week ago, we did not know if Kinzinger or Stephens would even be able to wrestle in the postseason. They both missed quite a few matches this year with injury, and we have always said when both are healthy we think we have the best 1-2 lightweight combination in the area. It took a lot of grit for those kids to tape it up and compete so well after extended time off."
Guercio is hopeful that a few of his wrestlers can advance through to the state tournament in Champaign.
"It should be a fun weekend ahead," he said.