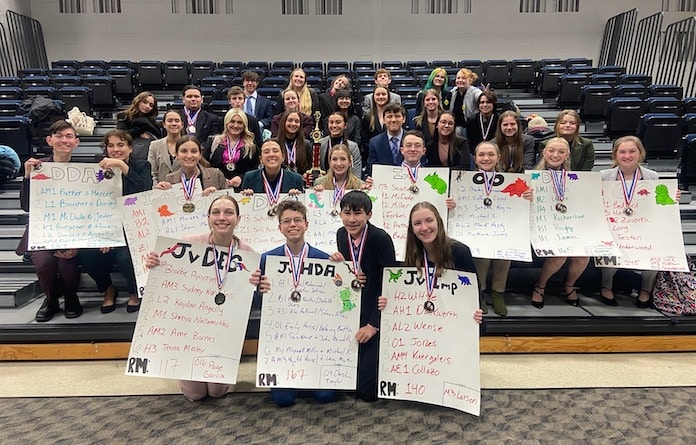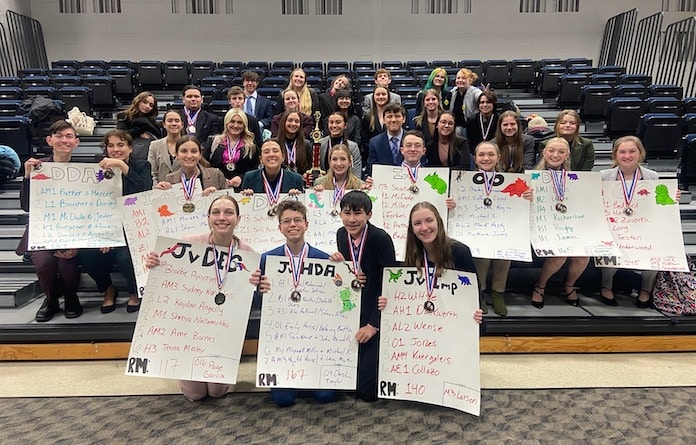 The Waterloo High School speech team is continuing its winning ways during the 2022-23 school year.
Waterloo's Performance in the Round cast competed in the state tournament last year after winning the sectional competition, with two students also advancing individually to state competition.
The current season is shaping up to be more of the same. Waterloo placed first out of 17 schools recently at the Glenwood Tournament.
The WHS varsity speech team also took home eight tournament champion titles: Audrey Davis, Dramatic Interpretation; Claire Papenberg, Oratorical Declamation; Emma Wittenauer, Poetry Reading; Kamryn Zavorka, Original Comedy; Nick Bedford, Impromptu Speaking; Nathan Dell and Sarah Hanlin, Dramatic Duet Acting; Victoria Cyvas, Original Oratory; Marisa Hoffman, Informative Speaking and Special Occasion Speaking.
At the Glenbard West Topper Tournament held the weekend of Jan. 7, Waterloo placed seventh of 20 schools. The team medaled in 12 categories.
Hoffman and Davis each earned next-in-champion honors in the Informative Speaking, and Dramatic Interpretation categories, respectively.
Other finalists included Wittenauer in Poetry Reading and Davis in Humorous Interpretation.
WHS speech team coach John Rickert noted Hoffman and Wittenauer have each been recognized with National Speech and Debate Association All-American honors.
The present is looking good and the future is bright. Eleven members of Waterloo's junior varsity speech team have also garnered tournament champion honors this year, including taking the top spot in three categories in Glenwood.
In the five tournaments this year, Waterloo has first place finishes in each with 10 individuals winning tournament championships. Of those, seven individuals have multiple tournament championship titles.
"We are looking to close out the regular season on a high note," Rickert said of an event this weekend at Belleville West High School.
The competition series during which the WHS team hopes for a return trip the state-level tournament begins next month.