WHS softball drops sectional final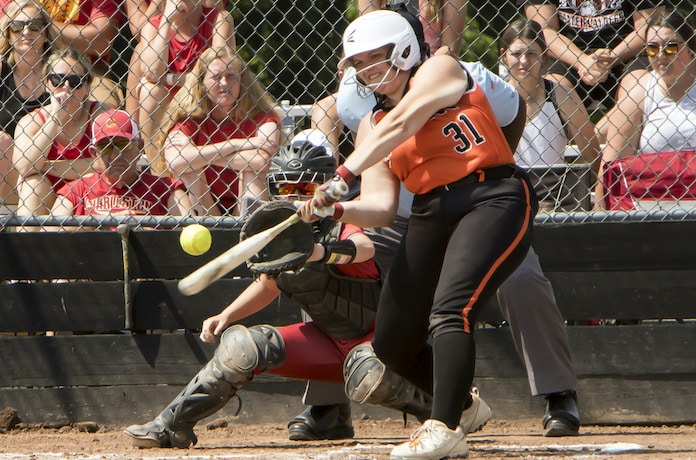 The season came to a close Saturday for the Waterloo High School softball team with an 11-5 defeat at the hands of Charleston in the IHSA Class 3A Highland Sectional final.
The Bulldogs looked to be on their way early, with an RBI single by Raelynn Melching putting them up 5-1 in the third inning.
But Charleston battled back with a vengeance, capitalizing on several miscues to take charge from there.
The Bulldogs committed seven errors in the contest.
Melching, Mia Miller and Aidan Dintelman collected two hits each to pace Waterloo's offense.
Only two of Charleston's 11 runs scored against Miller in the pitching circle were earned.
Waterloo ended its season with a record of 19-13 and a regional title.
Last Tuesday, the Bulldogs downed Carbondale to the tune of 7-0 in 10 innings to advance to Saturday's final.
Jada Voelker went 2-for-5 with a grand slam homer for Waterloo. Mallory Thompson also had two hits.
Miller pitched a 10-inning shutout, striking out 19 while allowing just two hits and walking only one.
With Saturday's loss, Waterloo says goodbye to graduating seniors Voelker, Emma Day and Lilly Heck.
Voelker hit .360 this season with 25 RBIs. Heck hit .351 with four homers and 31 RBIs.
Waterloo will return plenty of firepower next season, however.
Miller returns for her senior year in 2024 after posting a pitching mark of 11-7 with a 1.33 ERA and 231 strikeouts in 126 innings.
At the plate, Miller hit .398 with 27 RBIs.
Also returning next spring are three talented freshmen: Dintelman, Thompson and Sam Juelfs.
Dintelman hit .350 with 23 runs and went 7-4 with a 3.17 ERA in the pitching circle.
Thompson hit .382 with 24 runs.
Juelfs led the Bulldogs in hitting this spring at .442 with 28 runs scored.