Hawks survive in state semifinal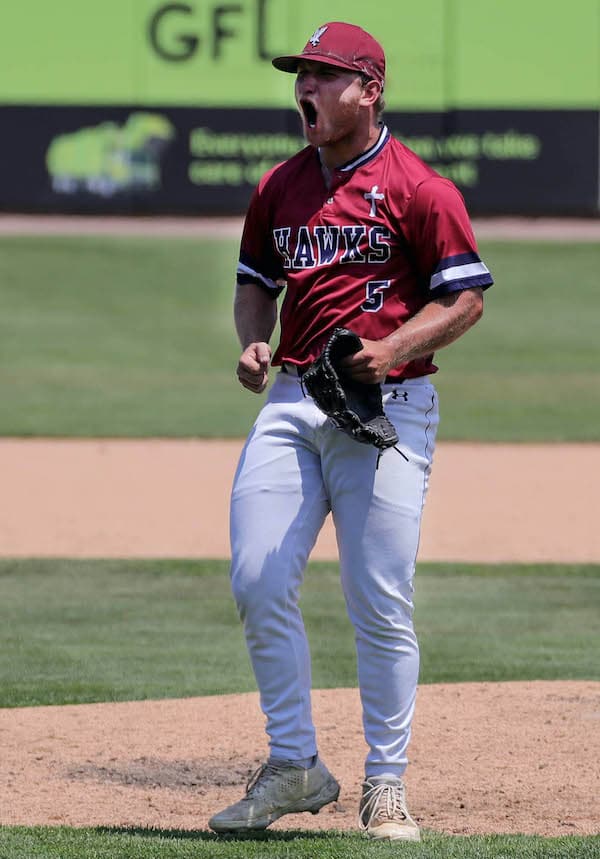 It came down to the wire, but the Gibault Catholic High School baseball team survived in Friday's IHSA Class 1A state semifinal contest against Goreville, winning 7-6 to advance to Saturday's title game in Peoria.
A five-run second inning had the Hawks flying high, but Goreville kept chipping away until the very end.
Trailing 1-0 with two outs in the top of the second, Gibault (23-14) staged a rally. Jack Keeven continued his hot streak from the ninth spot in the batting order with an RBI single. That was followed by a bunt single from Kameron Hanvey. Daniel Darin doubled to left, scoring two more runs. Then it was Hudson Blank with a two-run homer deep to left to put the Hawks up comfortably at 5-1.
Goreville plated single runs in the second, fourth and fifth to keep the game close into the late innings.
Hanvey, Friday's starting pitcher for the Hawks, helped his own cause with an opposite field double to left in the top of the sixth inning to push Gibault's lead to 7-4.
That was the score entering the bottom of the seventh before Goreville staged a last-ditch effort. The Black Cats plated two against Hanvey, resulting in a pitching change to Darin, who is a hard-throwing lefty.
With two outs, Darin walked the first batter he faced to load the bases. There was no room for error when Darin struck out the final batter for a narrow 7-6 victory.
In addition to striking out nine over six and two-thirds innings, Hanvey went 2-for-4 at the plate with two RBIs.
The Hawks, who won the Class 1A state basketball title in May, will now face Sterling's Newman Central Catholic at 11:30 a.m. Saturday in the state final at Dozer Park. Newman Central edged Henry-Senachwine, 2-1, in the other semifinal.
For a play-by-by account of Friday's game, click here.