Eagles fall just short of state title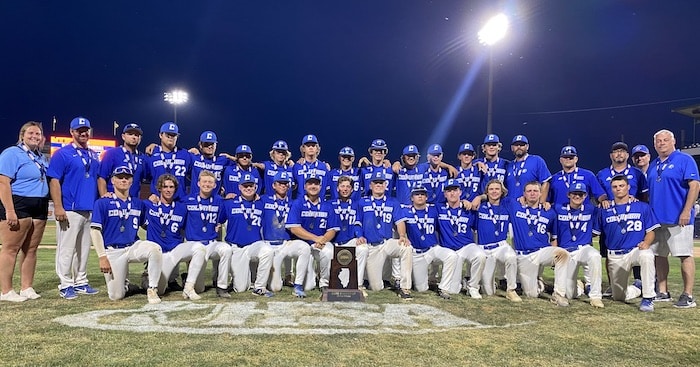 As the late, great Yogi Berra once said: "It was déjà vu all over again."
The Columbia High School baseball squad made a return trip to Peoria for the IHSA Class 2A state tournament after placing third last season. And just like last year, the Eagles faced Joliet Catholic.
This time it was in the state final instead of the semifinal, but the result was the same. Columbia (34-5) dropped a heartbreaker to Joliet Catholic on Saturday, 4-2.
Last year, Joliet Catholic won 4-1 over Columbia, using a three-run fifth inning to advance to the Class 2A final. Joliet Catholic finished with the top trophy last season as well.
On Saturday, Joliet Catholic jumped on Columbia starter Lucas Riebeling. A three-run first inning put the Eagles in an early hole.
Joliet Catholic added a tally in the third to go up 4-0 before Columbia found an answer to starting pitcher Nathan Ciemny. It was a strange top of the third inning, as a Joliet Catholic foul ball busted a water pipe in the upper deck on the third base side. The noise and mess from spouting water resulted in a 15-minute delay. Also in that inning, a Joliet Catholic baserunner appeared to break his nose when the throw struck him while stealing second – resulting in an injury delay.
Columbia leadoff hitter Jack Steckler walked to begin the bottom of the fourth, after which fellow senior Dom Voegele slugged a ground-rule double to left. A wild pitch allowed Steckler to score and moved Voegele to third. An Alex Schreckenberg groundout made it a 4-2 game and got the Eagles faithful to make some noise.
The Eagles also looked to have something cooking in the bottom of the fifth – only for that golden opportunity to evaporate.
Brennan Weik walked and his pinch runner was moved over to second on a sacrifice bunt by Reed Drabant. Steckler was hit by a pitch, putting Columbia in business. But Joliet Catholic reliever Michael Tuman struck out both Voegele and Schreckenberg looking to end that threat.
"That was probably the ballgame there for us in the fifth, but that's baseball," Columbia head coach Neal O'Donnell said. "That's the heartache of it and beauty of it all at the same time."
In the sixth, a lined shot off the bat of Columbia's Tyler Rosencrans was somehow snagged by the Joliet Catholic leftfielder.
In the seventh, the Eagles went down on two groundouts and a flyout.
"Games like this, as it gets later in the game, obviously the pressure builds," O'Donnell said.
In the end, the Eagles were held to just two hits on the night.
"We just didn't have many opportunities," O'Donnell said. "If we could've had a few more hits, we would've had a different outcome."
Brady Mathews, a junior lefty pitcher who won the supersectional on May 29, pitched four shutout innings in relief of Riebeling.
"He did a phenomenal job to hold it where it was," O'Donnell said.
Columbia saw the final games for 14 seniors who added two state trophies to the school's collection the past two seasons: Voegele, Schreckenberg, Steckler, Drabant, Rosencrans, Weik, Chase Schrader, Drake Wittenbrink, Zach Wetzel, Nick Janik, Matt Heuman, Aidan Gaither, Porter Fike and Riley Etherton.
"What a great group of kids," O'Donnell said. "They called themselves a family, and I really feel our seniors embodied that, the way they came together as one. They won a lot of ballgames for us. But the stuff before practice starts and after practice gets over, that's the fun stuff, the memories."
A parade welcoming home the 2023 Class 2A state runners-up took place about early Sunday afternoon on Main Street in Columbia, which was followed by a reception in the school gym.
Semifinal shutout
Columbia advanced to Saturday's final by virtue of a 9-0 victory Friday over DePaul College Prep.
Voegele went the distance on the mound for the Eagles, striking out nine with no walks and just four hits allowed.
Steckler, Schreckenberg, Landgraf, Rosencrans, Weik and Riebeling collected two hits each for a Columbia offense that had 14 hits on the day.
The big inning was the six-run sixth, when Voegele had an RBI single, Schreckenberg drove in a run on a sacrifice fly, Drabant doubled to left to score two more, and then Weik singled to drive in two.
By the numbers
A few local baseball followers questioned how Joliet Catholic remained in Class 2A for baseball this season after winning the state title in this class last year.
IHSA Assistant Executive Director Matt Troha offered this explanation.
"IHSA has a 'multiplier' and a 'success factor' for private schools," Troha said. "If a team achieves a certain amount of success in the postseason, their enrollment is multiplied by 1.65, which often (but not always) leads to a team moving up a class. The success factor didn't exist until 2015 and that automatically moves a private school up a class if they make it to state multiple times during an enrollment cycle. The cycles changed a few years back from a yearly cycle to a two-year cycle, which is what we currently use. In the two-year cycle, no schools change classes until the end of the cycle. So that is why Joliet Catholic did not move. A new two-year cycle will begin for 2023-24 and 2024-25 next year and Joliet Catholic will both be multiplied again, and be success factored."
Two members of this year's Eagles have connections to the 1987 squad that won state – Brady Mathews is the son of former major league pitcher TJ Mathews and Brody Landgraf is the son of former Parkview Elementary Principal Brad Landgraf, who is now a superintendent in Millstadt. Both were key members of that legendary team.
Voegele, a University of Kansas commit who may attract some attention in the upcoming Major League Baseball Draft, hit .488 with a .586 on base percentage and .961 on base percentage to go along with 12 home runs, 20 doubles, 51 RBIs, 57 runs and 23 stolen bases this season.
Schreckenberg hit .386 with three homers, 37 RBIs, 40 runs and 32 stolen bases.
Rosencrans hit .381 with 20 runs, Steckler hit .370 with 39 runs, and Landgraf hit .367 with 33 RBIs.
On the mound, the hard-throwing Voegele was nearly untouchable with a 10-0 mark, 1.04 ERA and 111 strikeouts in 67-plus innings.
Riebeling (7-1, 1.25 ERA in 50-plus innings) and Mathews (5-0, 1.54 ERA in 36-plus innings) also pitched well and return next season as the Eagles reload for 2024.
For more photos from the Eagles in Peoria, click here.