A 47-year-old Waterloo man is asking for privacy as he begins a long road to recovery following an April 25 crash between a Mascoutah School District bus and a box truck on Route 161.
George Buchanan, a lifelong Monroe County resident and 1988 graduate of Waterloo High School, was seriously injured when a box delivery truck he was driving westbound on Route 161 was hit by an eastbound Mascoutah School District bus that swerved into Buchanan's lane, according to Illinois State Police Trooper Calvin Dye Jr.
The driver of the school bus, which had 23 middle school students, was 74-year-old Alphonse Schlueter of Mascoutah. He was ticketed for improper lane usage, Dye said.
"The (bus) driver reported he was distracted by something that happened on the bus," said Mascoutah School District Superintendent Craig Fiegel. "We reviewed the tapes. We found out there were no students out of their seats."
Dye confirmed ISP investigators also viewed the footage from the bus camera and no students were out of their seats at the time of the crash.
Rather, Fiegel said, the driver reported hearing raised voices and when he looked in his rear view mirror to ensure all the students were still in their seats he became distracted and the bus drifted into Buchanan's lane.
"The driver of the delivery truck noticed the school bus swerving," Dye said. "He pulled over to the right as far as he possibly could next to a guard rail. That's when the driver of the school bus hit the driver of the delivery truck's vehicle, causing serious injuries to the 47-year-old driver of the delivery truck." Dye added Buchanan did everything "right" to attempt to avoid the crash.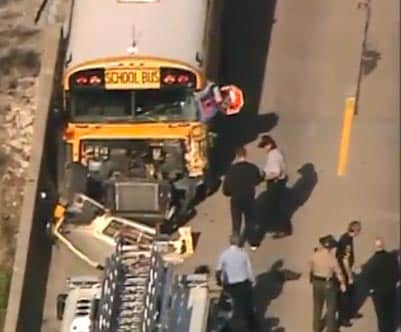 Buchanan was airlifted from the scene to Barnes-Jewish Hospital in St. Louis, where he has already undergone multiple surgeries and is facing additional surgeries for several devastating injuries.
Buchanan was driving a truck for Weir Chevrolet in Red Bud.
Ten Mascoutah students were transported from the scene for treatment at area hospitals and one student was transported later by private vehicle; none of the injuries was considered serious. The bus driver was not transported.
The students on the bus were in grades six through eight, according to Feigel.