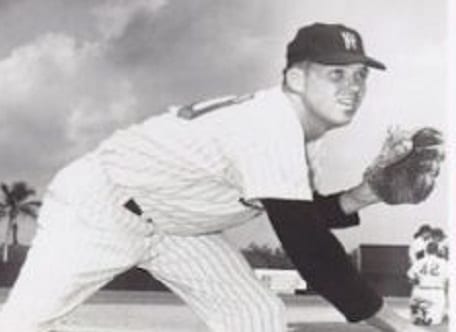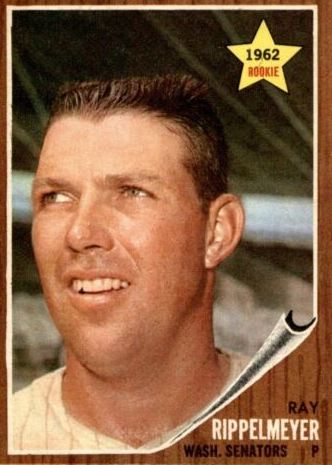 By COREY SAATHOFF
Editor
Former major leaguer and longtime professional pitching coach Ray "Bud" Rippelmeyer of Valmeyer passed away Friday at the age of 89.
Ray was an inaugural member of the Valmeyer High School Athletic Hall of Fame in 2016. After starring for the Pirates (VHS Class of 1951), he first attended Southern Illinois University Carbondale on scholarship to play both baseball and basketball before transferring to Southeast Missouri State University to play basketball. 
At 6-foot-3, he became a college hoops All-American and set the scoring record for SEMO. Ray was inducted into the SEMO Athletic Hall of Fame in 2005.
Ray put together a successful professional pitching career in the minor leagues and even enjoyed a brief stint in the major leagues with the Washington Senators – winning one game in 1962 with 18 total appearances. In all, he pitched 39 and one-third innings in the majors.
In 11 minor league seasons, Ray went 114-83 in 330 total games.
After his playing days, he became a successful professional pitching coach, most notably his nine years with the Philadelphia Phillies.
The Society for American Baseball Research has an extensive article tracking Ray's professional baseball success. Read that by clicking here.
The article states that Ray's proudest moment in pro baseball came as pitching coach for the 1972 Philadelphia Phillies.
The team lost 97 games, but after Rippelmeyer convinced young southpaw Steve Carlton in spring training in 1972 to "throw his slider, which he hadn't used with St. Louis," the future Hall of Famer went 27-10 and won the National League Cy Young Award.
"I had seen him throw it in Tulsa in 1966 when I was traveling with the Phillies," Ray was quoted as saying. "It was the pitch that made him famous."
A 2012 blog post by Bleacher Report ranked Ray at No. 41 in its list of "The 50 Best MLB Pitching Coaches of All-Time."
"When former pitcher Ray Rippelmeyer took over as pitching coach for the Philadelphia Phillies, he inherited a pitching staff that for years had been inept. By the time he was finished in 1978, he had it transformed into one of the best in baseball," the blog states. "It was Rippelmeyer who suggested to (Steve) Carlton that he use his famous slider more often after his trade from the St. Louis Cardinals. Carlton rode that pitch to two Cy Young awards under Rippelmeyer's watch."
He also officiated college basketball throughout the Midwest.
The youngest of four children, Ray spent many childhood hours doing chores on his father's 2,500-acre farm, milking cows and tending to pigs, the SABR article states.
"In his free time, he enjoyed playing basketball and baseball and listening to St. Louis Cardinals games on the radio, particularly from 1942-46 when they won four pennants and three World Series," the SABR article states. "Rippelmeyer's hero was Stan Musial, whom he got to know later on."
On Sept. 25, 1955, Ray married Glenda Faye Jones, of Cape Girardeau, Mo. Two days later, he began basic training at Fort Leonard Wood, Mo., and remained there until his honorable discharge from the U.S. Army on June 25, 1957, the SABR article states.
Ray actually preferred hoops over baseball as a youngster and after becoming the all-time scoring leader for SEMO, attracted some professional interest.
Shortly before being drafted, SABR quotes Ray as saying he "was contacted by the New York Knicks of the National Basketball Association and asked to report to their preseason training camp. I politely declined the opportunity but got to play a lot with pro players in the Army."
Ray's son Brad Rippelmeyer – himself a former minor leaguer – said he shared a special bond with his father.
"I can remember all the wisdom he shared with me in rides to and from my games as a kid and to and from games at Busch Stadium," Brad said. "And later, when I was in college and pro baseball, we would have long conversations on the phone where we would go through every pitch of every at bat I had had since the last time we talked."
Brad said his favorite memory of his father was when Brad was in his first year of pro baseball with the Idaho Falls Braves and hit a home run with Ray in the opposing dugout for the Billings Reds and Brad's mother watching from the stands.
"When I look at all of his attributes – hardworking, humble, caring, generous with time and money – I honestly am not sure I have ever met a better person," Brad concluded.
Visitation is set for 4-8 p.m. Sept. 16 at Quernheim Funeral Home in Waterloo and 2-3 p.m. Sept. 17 at St. John United Church of Christ in Valmeyer.
Funeral services are 3 p.m. Sept. 17 at the church.
For his full obituary, click here.