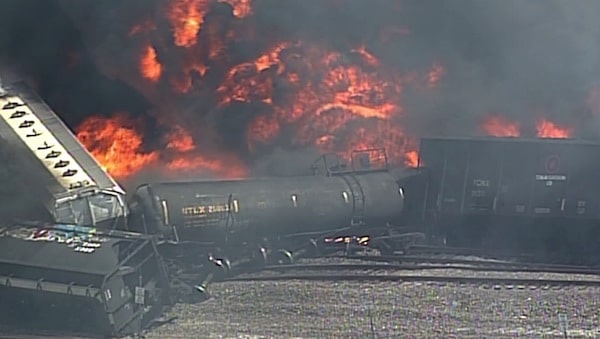 Over a dozen area fire departments and other emergency personnel responded shortly after 12:30 p.m. Tuesday to the Union Pacific rail yard in Dupo after a train derailed and caught fire.
"Approximately 14 railcars derailed in Union Pacific's Dupo Yard near Carondelet Avenue between Main and Adams Road," Union Pacific said in a statement. "At the time of the derailment, a train was being built for departure; however, the exact cause remains under investigation. As a result of the derailment, a tank car caught fire."
The company said it evacuated all employees and no injuries were reported.
"A derailment occurred in Union Pacific's Dupo yard near Carondelet Avenue between Main and Adams Road.Both crossings are closed.The train was being built for departure at the time of the derailment, which caused a tank car to catch fire. Initial information from the scene indicates that the tank car contains a flammable liquid called methyl isobutyl ketone. It is typically used as a solvent.
in car that caught fire contained a flammable liquid called methyl isobutyl ketone, which is typically used as a solvent.
According to the National Center for Biotechnology Information, that substance can cause eye and respiratory irritation, but the effects are relatively weak for those exposed at low levels. 
Illinois Environmental Protection Agency Public Information Officer Kim Biggs said the United States Environmental Protection Agency was on scene and assisted with monitoring air quality.
Biggs said the EPA did not conduct its own tests because it was satisfied with what the company did.
She said there are no ongoing concerns about air quality, with the IEPA now focusing on potential impacts water runoff into a nearby retention pond.
Police temporarily evacuated the nearby Adams subdivision, Flora Acres subdivision, and Stoneybrook mobile home park as a precaution.
About 40 displaced residents went to the East Carondelet Community Center, which was opened to them.
The Dupo school district also evacuated, busing students and staff to Columbia High School. Parents had to sign out their children at the front door.
"We would like to thank our parents for their patience today," the school district posted on Facebook. "We put the safety and security of our students first and are glad to report that our evacuation went smoothly and all students were returned safe to their families."
Residents were not allowed in their homes for a little over an hour. The evacuation order ended after Union Pacific conducted an air quality test and determined the air was OK at about 3:45 p.m.
As a precaution, the company said it will continue to monitor the air quality downwind and southwind at least five miles from the yard until further notice.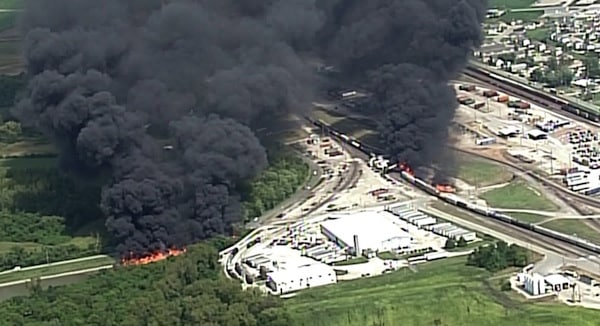 Additionally, East Carondelet residents were without power for a time after Ameren Illinois cut the power to the village because there was a high tension line over the fire. Some Dupo residents also lost power as a result of the incident.
Initial reports that the nearby Vertex Chemical Corporation, which manufactures swimming pool chemicals, was damaged were false, the company confirmed.
"Union Pacific apologizes to the community for the impact this has caused," the company said. "We'd also like to thank the first responders who put out the fire and helped with the evacuation. Union Pacific's Hazmat personnel will remain on scene until remediation is complete."
First responders remained on scene into the evening.
Union Pacific said it was working to remove cars, inspect the track and make any necessary repairs, with that estimated to be completed early Wednesday.
The fire was under control shortly after 3 p.m., but officials were still working on cleanup. A Union Pacific contractor was leading those efforts.
"I can't say enough for our first responders," St. Clair County Emergency Management Agency Director Herb Simmons said. "They attacked this thing and got it knocked down pretty quickly."
The Dupo, Waterloo, Columbia, Millstadt, Hecker, Golden Gardens, Sauget, Camp Jackson, St. Louis Downtown Airport, Cahokia, Prairie du Pont, Hollywood Heights, Madison, New Athens, Smithton, Villa Hills, St. Libory, St. Louis, Lenzburg, Marissa and Lebanon fire departments were among those responding.
Other first responders on scene included the St. Clair County Hazmat team, St. Clair County EMA, the Dupo, Columbia, Smithton, East Carondelet and Cahokia police departments as well as and Illinois State Police, Illinois Emergency Management Agency, St. Clair County Health Department emergency response team and a specialist team from the ethanol plant in Wood River.
The Federal Railroad Administration, IEPA and National Weather Service were also on hand.
The American Red Cross was present to keep first responders hydrated. Stingers Restaurant & Pizzeria in Cahokia and Dairy Land in Dupo sent food for first responders.
"The region came together for a situation that could have really been ugly," Simmons said.
The Dupo Fire Department also thanked those who helped handle the situation.
"The coordinated cooperation of all involved transformed a situation that could have been much, much worse into a manageable incident with no injuries to personnel or residents," the department said in a statement. "The response Tuesday exhibited the talent and dedication of the first responders, village, county, state and school district officials in our area and the support that comes from the community makes it easier for us to do our jobs in times of danger. As always, 'We're here if you need us.'"
Dupo Police Chief Kevin Smith also expressed his thanks to first responders, the school district and residents.
"It was a blessing to have such great cooperation from everyone involved," Smith said. "The outpouring of support from the community was a big help, too."