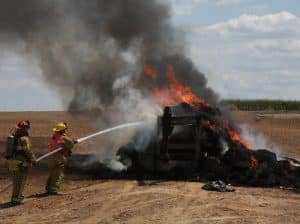 Waterloo police and fire department personnel responded at about 12:15 p.m. Wednesday to a fire on Rogers Street.
Firemen were dispatched to a fire reported by two different callers, one reporting a hay bale fire and the other reporting a trailer fire. Upon arrival, firefighters found a large gooseneck trailer full of straw bales with a straw chopper for covering newly seeded landscape fully involved on the east side of Rogers Street near Benjamin Lane.
"We extinguished the flames, cleaned the straw off the trailer and got the person working on the property to move the trailer clear of the smoldering pile of straw," Waterloo Fire Chief Brett Wiegand said. "We extinguished the piles of straw the best that we could, but it is difficult to completely put out the fire with the straw packed together."
Wiegand said workers on the trailer saw sparks coming out of the straw chopper, which started the straw bales on fire. This resulted in the loss of the trailer, straw chopper and approximately 100 bales of straw.
The Waterloo Fire Department was called back out to the scene Thursday morning to put water on the straw that was still smoldering.