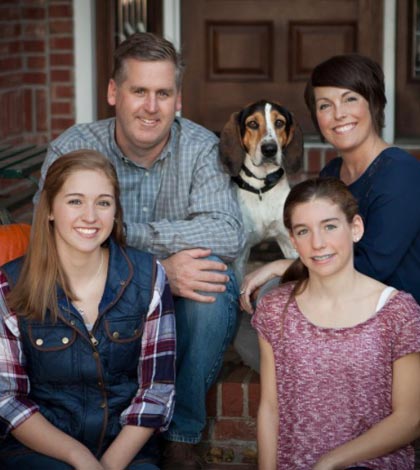 In competitive swimming, the keys are to stay within yourself and keep pushing the entire time.
For longtime swimmer John Traube, 47, of Columbia, those lessons also apply to his life now probably more than ever.
Traube was diagnosed with brain cancer on Dec. 6 when a tumor was detected in his frontal lobe. It's an aggressive brain tumor that is malignant and will likely re-grow at some point.
"It was shocking and very hard to believe, but we very quickly took on a mindset of challenging the statistics," Traube said.
Traube underwent surgery and radiation, and is currently taking part in a clinical immunotherapy trial at Siteman Cancer Center that seems to be going well with minimal side effects.
"The goal is to wake up your immune system," John's wife, Jen Traube, explained about the trial. "Our whole world was turned upside down. But you adjust, change your attitude and perspective on things. We're focusing on living and being positive. He feels pretty good."
Another type of therapy for John is his love of swimming.
In fact, John and Jen met during a college swim meet. He was swimming for Clarion University, she for Edinboro University, both in Pennsylvania.
"I guess you can say swimming is in our blood," Jen Traube said during a 2014 article interview. "It's all we know."
That passion for swimming has extended down to the Traubes' two daughters, Meredith and Emily.
John has stayed involved with swimming by assisting with the Flyers Aquatic Swim Team in St. Louis, of which both daughters are members.
Since his recent cancer diagnosis, John swims several days a week as he looks forward to participating in a Swim Across America Open Water Swim event later this month.
The benefit swim, which will take place Aug. 26 at Alpine Lake in Innsbrook, Mo., is a fundraiser in support of Siteman Cancer Center.
"Swimming gives me time to focus on being as healthy and strong as possible," John said.
Through this upcoming benefit swim, John is challenging himself and building up strength for his body in the process.
"John heard about Swim Across America and instantly thought that was something to take part in," said Jen, who teaches at Columbia High School. "Swimming gives him a purpose and a reason to get up and be active and healthy."
John will swim 2.4 miles during the Swim Across America event, hoping to raise as many funds as possible for a worthy cause.
Those wishing to donate toward John's fundraising effort can send a check to Swim Across America – St. Louis, P.O. Box 490, O'Fallon, IL 62269. Include a note mentioning John Traube as the swimmer you are supporting.
Donations can also be made online at www.swimacrossamerica.org.