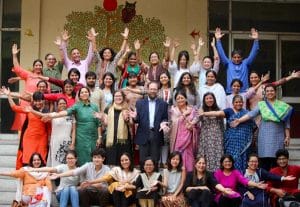 Along with cutting through American and Indian stereotypes, Heather Mehrtens' recent teaching experience in New Dehli helped her enjoy the most interesting facets of a foreign culture.
Mehrtens, 29, faced the challenge of immersing herself in the lifestyle of another country when she started a 10-month teaching fellowship in northern India. The 2005 Waterloo High School graduate taught English as a second language to more than 100 students at two different colleges.
"I think overall it was an amazing experience," she said. "I would recommend it."
Mehrtens' mom, Marcia Mehrtens, said she and her husband, Vince, were happy to see the impact Mehrtens was having on the students in India.
"When Heather first told my husband Vince and I that she was going to teach in India, we were worried," Marcia said. "But once we saw where she was living and how much she loved teaching over there, our worries turned to pride as we saw what a difference she was making in the lives of the students she was teaching."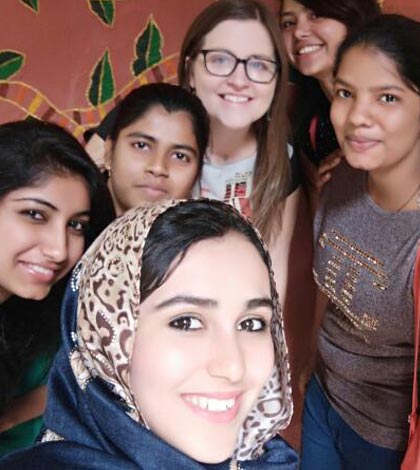 The two colleges where Mehrtens taught included Kamala Nehru College and Jamia Millia Islamia University. Additionally, she hosted teacher training programs to help native teachers understand how to present difficult English concepts to students.
In 2012, Mehrtens received her masters degree in teaching English as a second language. She went on to teach at several universities before ending up at the University of Maryland as an ESL instructor.
While in Maryland, Mehrtens spoke to several colleagues who recommended the fellowship, offered through the U.S. Department of State. She filled out an application and a country was chosen for her to teach in based on what best fit with her experience.
"I thought it would be good because I was looking for an opportunity to do teaching abroad and this is a prestigious program," Mehrtens said.
Throughout the program, she found one of the greatest challenges in teaching English revolved around helping students understand articles. Articles are used to define a noun as specific or non-specific. They include "a," "an" and "the."
"A lot of it is getting students to understand it's not a logical language," she said.
However, Mehrtens did achieve a modest success in her teachings at both of the colleges.
"I saw tremendous improvement. It was awesome to see," she said.
In addition to what she learned from her students, she realized India is not the country she came to understand from living in the United States.
"I learned to be a lot more open-minded, not that I'm a closed-minded person," Mehrtens said. "There's lots of diversity just among the people in the country.
"It's a population of about (1.3 billion) so I can't create stereotypes. It's not all just saris and curry. It's a lot more intricate than that."
One aspect of the culture that stood out as different than U.S. culture included the people's family-oriented lifestyle.
"It's like, if you marry someone, you're not just marrying them," she said. "You're marrying their family, too. When I chose my career, it wasn't like I was thinking, 'What would my family think?'"
Mehrtens plans to return to the University of Maryland to continue as an ESL instructor.