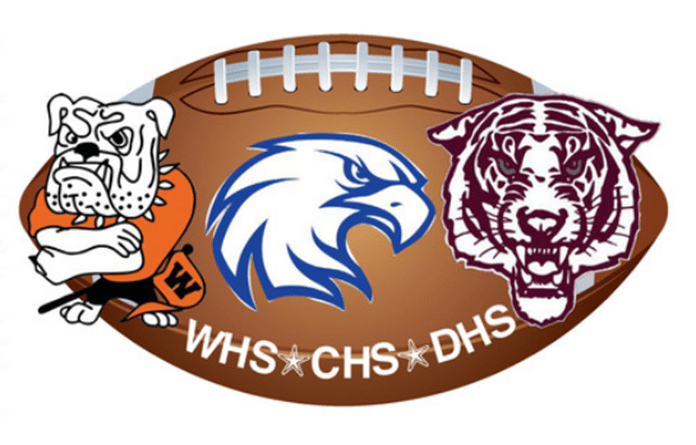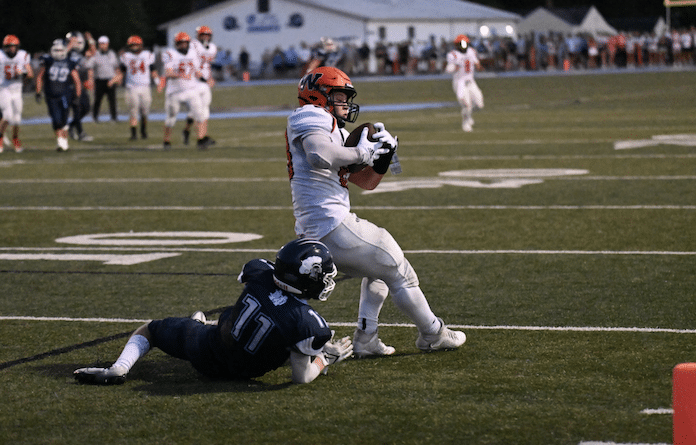 The 2022 high school football season kicked off Friday night, with some local teams faring better than others.
This Friday, the victors will try to prove week one wasn't a fluke, while the defeated aims to right the ship with some home cooking.
'Dogs win with D
Waterloo traveled to Breese and put on a defensive clinic in a 13-2 victory over Mater Dei. The Bulldogs defense limited Mater Dei to just 68 yards rushing and 85 yards passing on the night.
Evan Davis provided Waterloo's first points of the season courtesy of a short touchdown run that was preceded by his 26-yard reception late in the first quarter. Waterloo led 7-0 at halftime.
The only scoring in the third quarter came when Mater Dei recorded a safety after pinning Waterloo's offense up against the goalline.
With less than five minutes remaining in the final frame, Waterloo's Koby Osterhage ripped off a 74-yard TD run to put the 'Dogs up for good at 13-2. Osterhage finished with 104 yards rushing and 33 yards receiving, plus he had a sack on defense.
Waterloo quarterback Aidan Morrow was 6-of-14 passing for 90 yards.
Longtime Waterloo head coach Dan Rose praised the defense for standing strong all game, especially late. Mater Dei had a first and goal situation from Waterloo's two yard line in the game's final minutes but did not score.
"They were in the red zone a couple of times and got nothing," Rose said. "I was really happy with how they adjusted to adversity."
Rose especially pointed to the efforts of safety Bryce Reese (five tackles, 10 assists), defensive lineman Curtis Crossen (three tackles, six assists) and Wyatt Fink (fumble recovery, multiple batted passes).
As for the offense, Rose was excited that his team committed no penalties in the game.
Up next for the 'Dogs is the annual Monroe County rivalry game at Columbia this Friday.
"They've got experience back on the lines and at quarterback," Rose said of the Eagles. "We're gonna have our hands full."
Eagles grounded
It was a different outcome for Columbia, as they suffered a 49-26 road loss to a high-powered Mascoutah squad.
Mascoutah led 19-0 after the first quarter and never looked back. Mascoutah quarterback Zane Timon was 12-of-18 passing for 219 yards and two scores in addition to rushing for 107 yards and two TDs.
Columbia quarterback Dominic Voegele ran for 145 yards and two TDs and threw for 132 yards and two scores.
"We did a lot of things well, even though the score may not show that," Columbia head coach Scott Horner said. "We had cut it to 16 at one point in the third quarter, but could not stop them when we needed to. They are very athletic and they also wore us down."
As for Friday's opponent, Horner said he is expecting a "tough, hard-fought battle" with the Bulldogs.
"They are coming off a huge win against Mater Dei, so they will be motivated to keep that going," Horner said. "They have a solid running game and a stingy defense."
Tigers claw out win
Dupo won 38-30 in its home opener Friday night against Oblong, marking a successful debut for new Tigers head coach Zach Klaustermeier.
The game was scoreless after one quarter, but both teams made up for that with plenty of points the rest of the night.
Dupo freshman quarterback Deegan Prater made a stellar debut, going 13-of-19 passing for 186 yards and two TDs. He also ran for 97 yards.
Logan Stevens rushed for 110 yards for the Tigers.
"Overall, I was very happy and pleased," Klaustermeier said. "We knew there would be negative things… it is week one. However, I wanted to see how we would handle negative events. I think we did a pretty good job."
Klaustermeier said his team was still able to score 38 points despite turning the ball over three times inside the 25 yard line.
On defense, the new head coach said his team needs to tackle better.
"But I was proud of our pursuit and we had a lot of hats around the football," Klaustermeier said. "With that being said, there were still too many big plays and that was something that we talked about before the game. Making them drive the entire field was the plan. Plenty to keep working on, but very, very happy with the effort and attitudes."
Dupo travels to Oneida for a rare Saturday contest. Kickoff is at 2 p.m.