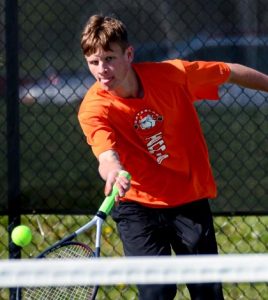 The Waterloo High School boys tennis team is 5-5 on the spring entering the home stretch of its season.
Head coach Brett Ivers said this is one of the largest teams he's had in years, and that has come in handy.
"There has been plenty of player involvement," Ivers said. "The numbers have helped because we have relied on nine different people to play the six singles spots. The numbers allow us to stay sharp and competitive in practice, and that has translated well to the matches."
Only senior Ryan Stites entered the season with significant varsity experience, as Waterloo lost five of its top six players from last year.
Stites has a record of 5-3 in singles and 4-4 in doubles alongside sophomore Devin Biffar.
"Devin has made a huge improvement and continues to get strong in the middle of the lineup," Ivers said. "Being paired with Stites in doubles has really helped his game. He has had great results this spring and I am optimistic about his role on the team in the future."
Three seniors making the most of their opportunities at the varsity level this season are Connor Stierwalt, Nick Camerota and Collin Webb.
"(They) have provided stability with their leadership as returning players," Ivers said.
Two freshmen that have played well this spring, according to Ivers, are Blake Reisner and Nate Metz.
"Blake has really moved up in the lineup and if he continues to improve I expect big results from him in the future," Ivers said.
Justin Kohler, a junior, has also stepped up in his first year on the team, Ivers said.
"His ability to move around the court has been a definite strength and as he learns the game, will also be pivotal next year," Ivers said.