Sunday house fire in Columbia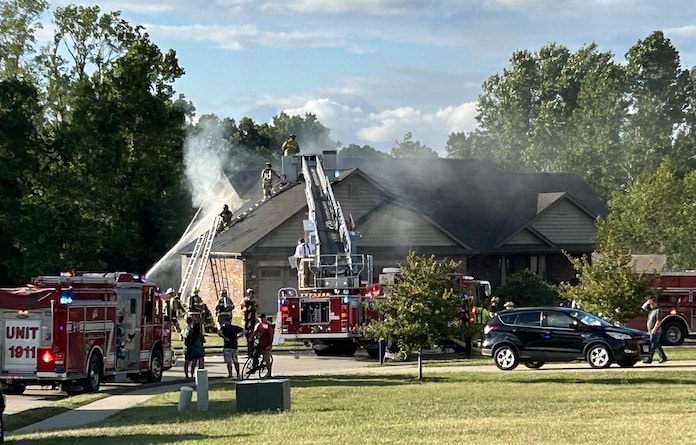 Multiple fire departments responded about 6:30 p.m. Sunday to a structure fire at 551 Wernings Drive off Rueck Road in Columbia.
Heavy smoke was seen coming from the residence upon firefighter arrival.
Responding agencies included the Columbia, Millstadt, Waterloo, Dupo and Prairie du Pont fire departments, Columbia police and Columbia EMS.
Ameren was also dispatched to the scene.
Columbia Fire Chief Mike Roediger said hot exhaust from a small outdoor generator energizing the home caught wooden steps at the back of the residence on fire, with the flames then spreading to exterior siding up to the attic.
Much of the town had been without electricity all weekend due to Friday's fierce storm.
Occupants of the residence were home at the time and heard the generator stop working, after which the fire was discovered.
A male occupant of the residence attempted to extinguish the blaze prior to firefighter arrival, sustaining first and second degree burns to his hands and arms in the process. He declined medical transport at the scene, Roediger said.
The garage, a portion of the attic and a bedroom, bathroom and closet sustained damage, with other portions of the structure sustaining minor smoke damage. Roediger estimated about one-third of the large residence was damaged.
Roediger praised the quick response from mutual aid departments to the fire scene.
"I can't believe how quickly they all got there," he said.
Roediger stressed that anyone running a generator at their home should make sure the exhaust is pointing away from any window or wooden object and generally away from the residence.