Columbia still cleaning up after storm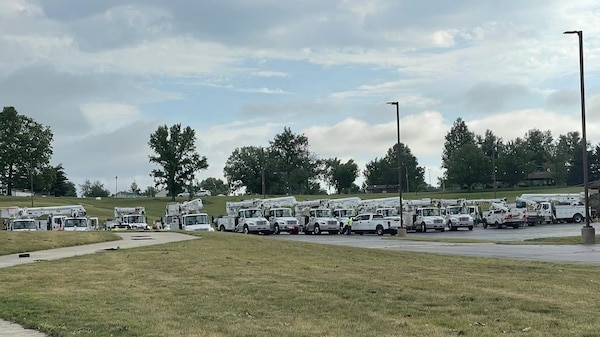 An army of 300 linemen from the region descended on Columbia early Sunday morning to attack a lingering power outage throughout much of the city due to a fierce Friday night storm with high-speed straightline winds that downed trees and power lines.
The linemen have come from as far away as Kentucky and Tennessee to assist locally.
Many Columbia residents have been without power since Friday night, as Saturday afternoon temperatures were in the upper 90s. Ameren and Monroe County Electric Cooperative are working around the clock in an attempt to restore electricity.
"In my 62 years on this earth, I've never seen a storm like that," said longtime Columbia Fire Chief Mike Roediger, whose department has handled 80-plus calls since Friday night.
As of Monday morning, the area from Sunset Overlook to the 11 South complex and the Columbia Lakes and Brellinger subdivisions had power restored. Other portions of the city were starting to be re-energized late Monday morning. Others may have power sometime Monday evening or Tuesday morning, it has been estimated.
During Monday morning's meeting of the Monroe County Board of Commissioners, Monroe County Public Safety Director Kevin Scheibe said Ameren is "slowly getting to the grid," but extensive tree removal has hindered the process.
Scheibe also said the City of Waterloo has announced its yard waste disposal site at Lakeview Park will be open to county residents for the next two weeks. The site is typically just for Waterloo residents.
While the City of Columbia is providing limb pickup services for city residents, county residents who have yard waste may call the Monroe County EMA at 618-939-8681 ext 534, 531 or 533 to schedule pickup.
All trees and branches must be placed at the end of private driveways and not in the roadway. The deadline for scheduling tree debris removal is July 10.
Monroe County residents are reminded the "burn ban" issued last week is still in effect, and limbs and other debris from the storm should not be burned.
Also as of Monday morning, the City of Columbia has provided a dumpster at Bolm-Schuhkraft Park for all perishable items which may have spoiled due to the lack of electricity.
For more on Friday's storm, click here.
Massive damage reported at American Legion Park in Columbia resulted in the cancellation of this year's July 4 Celebration.
"The fireworks display will be rescheduled for a later date," The Columbia July 4 Committee stated in an announcement on Saturday. "Other features and activities associated with the event may also be rescheduled."
The City of Columbia posted on Facebook that a cooling center has been set up at Columbia Public Library until 7 p.m. Monday.
In an act of generosity, Schnucks in Columbia offered free sandwiches, chips and water early Sunday afternoon to all Columbia residents impacted by the storm.
Read more storm-related information from the City of Columbia by clicking here.