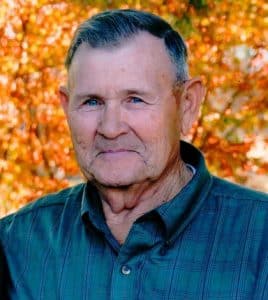 Steven R. Eschmann, 76, of Waterloo, died Jan. 2, 2017, in Waterloo, after battling melanoma for more than four years.
He was born May 20, 1940, in Monroe City, son of the late John Sr. and Rosa D. Eschmann (nee Schaefer).
Steven was retired as road commissioner of district No. 6 (1991-2013), retired from Labor Local No. 196, and former co-owner of Monroe Masonry.
He was a member of Ss. Peter and Paul Catholic Church, Waterloo.
He is survived by his wife of 51 years, Ramona A. Eschmann (nee Schifferdecker); his children Dawn (Dean) Doerr, Martin (Karen) Eschmann, Todd (Angie) Eschmann, and Amber (Mike) Carroll; grandchildren Nicholas (Jamie), Tyler (Chandler) and Quinton Doerr, Emily and Nathan Eschmann, Samantha, Abby and Brenden Eschmann, and Clayton and Claire Bisanz; step-grandchildren Nikki, Bryan and Brendan Carroll; brothers Joseph, George (Judy), Norbert (Kaye) and Wilbert (Karen) Eschmann; brothers-in-law and sisters-in-law Clara Eschmann, Mary (Bob) Huch, Terry (Sandy) Schifferdecker and Marie Schifferdecker; along with nieces, nephews and cousins.
He was preceded in death by his parents, and brothers Bernard, Leo, John J., Cletus and Sylvester Eschmann.
Visitation is 4-8 p.m. Jan. 5, and 8-9:30 a.m. Jan. 6, at Quernheim Funeral Home, Waterloo.
A funeral Mass will be celebrated at 10 a.m. Jan. 6, at Ss. Peter and Paul Catholic Church, Waterloo, Rev. Sebastian Ukoh, C.M. officiating.
Interment will follow at Immaculate Conception Cemetery, Madonnaville.
As an expression of sympathy the family prefers memorial contributions to Ss. Peter and Paul Catholic Church or Hospice Patient Fund.