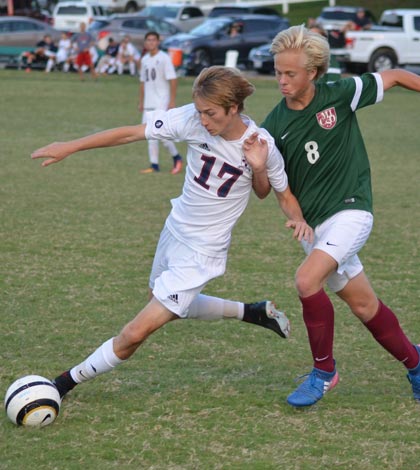 Waterloo, Gibault and Columbia all seem to be playing their best soccer at the right time as regional play begins next week.
The Bulldogs have won four straight, including 3-0 victories over Mascoutah and Highland last week to clinch the Mississippi Valley Conference title outright with a 9-0 record.
Waterloo (12-8) can complete an undefeated conference schedule with a win Thursday at MVC rival Triad. The victory would also mark head coach Chad Holden's 300th career win.
"We knew we had a chance to be in contention for winning the MVC, but going undefeated up to this point is really impressive," Holden said. "With all of the great teams we have had, we have never gone undefeated in conference."  
Holden praised the defensive play of Josh Kaiping, Dalton Blanchard, Brennan Lacroix, and Nolan Rick on the back line, as well as the success of goalkeeper Sam Ward.
"We have had four shutouts in a row and not giving many opportunities for the opposing teams to even get that many shots on us," Holden said.
Caden Gordon, Justin Kohler and Tate Schilling scored the goals in last Tuesday's win over Mascoutah. Kohler netted a hat trick in Thursday's win over Highland.
Kohler leads the team with 18 goals and nine assists. Gordon is next with 11 goals and 11 assists.
Waterloo will play in the Class 2A Bethalto Regional next week with a game against Jacksonville on Oct. 17 Cross-town rival Gibault is also in the regional. The two could meet in the regional final on Oct. 21.
"I think our subsectional has to be one of the toughest in the state," Holden said. "We are really looking forward to the challenge, though."
Gibault (11-6-3) tied large school O'Fallon on Thursday, 1-1, and defeated Triad on Saturday, 2-1. 
Logan Doerr scored the goal for the Hawks against O'Fallon; Aaron Grohmann and Cam Kincheloe netted the goals against Triad.
Karson Huels leads the team in scoring with 14 goals and seven assists. Doerr is next with eight goal and five assists.
Gibault hosts Belleville West to conclude the regular season on Thursday before taking on the winner of Civic Memorial and Jerseyville in Class 2A regional play on Oct. 17.
This is the first year in Class 2A for the Hawks after placing third in the state at Class 1A last season.
The magical season continues for Columbia, which won two more games last week to go to 21-0-2 on the season.
Riley Hubler scored twice in each game, a 3-1 win over Collinsville last Tuesday and a 2-0 win over Alton on Thursday. 
Hubler now has 24 goals and five assists on the season. 
Jon Kuebler made six saves for the shutout against Alton. He has a .939 save percentage this season.
The Eagles have outscored their opponents 77-7 this season.
Columbia, which hosts its own sectional, begins play in the Class 2A Mascoutah Regional against Highland on Oct. 17. With a win, the Eagles would play either Mascoutah or Triad for the regional title on Oct. 21.
In Class 1A, Valmeyer (5-12) opens regional play at Breese Central with a contest today (Wednesday) against Mt. Carmel.
Andrew Whipple leads the Pirates with 13 goals and two assists. Ryan Brinkman and Cole Juelfs are next with five goals apiece.