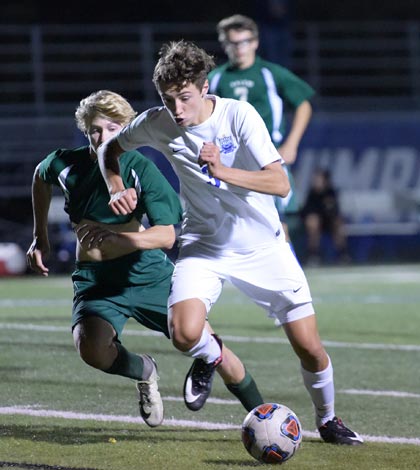 Monroe County has pretty much become the soccer capital of Illinois, with five straight state tournament appearances among Gibault, Columbia and Waterloo, including three titles.
With such an abundance of talent, it becomes difficult to narrow down players when deciding our annual All-Local Team. Without further adieu, here's this year's list.
FIRST TEAM
Jon Kuebler, Columbia. This senior goalkeeper posted a 22-1-2 record with 16 shutouts and a .932 save percentage this season for the Eagles to capture Illinois High School Soccer Coaches Association All-State honors.
Sam Spivey, Columbia. A senior midfielder, Spivey earned back-to-back all-state honors after scoring 14 goals with four assists this season.
Karson Huels, Gibault. A junior midfielder, Huels led the Hawks with 18 goals and 10 assists this season.
Justin Kohler, Waterloo. This senior midfielder led the Bulldogs with 18 goals and 11 assists this season to earn all-conference honors.
Riley Hubler, Columbia. A junior forward, Hubler was the leading scorer for the one-loss Eagles with 25 goals and six assists.
Caden Gordon, Waterloo. Gordon was second on the Bulldogs in scoring this season with 14 goals and 12 assists.
Logan Doerr, Gibault. This junior forward was second on the Hawks in scoring with 10 goals and eight assists, including multiple clutch scores in the postseason.
Aaron Grohmann, Gibault. A senior defender, Grohmann provided stellar defense all season for the Hawks while also scoring four goals with five assists.
Dalton Blanchard, Waterloo. He earned all-conference honors in the Mississippi Valley Conference for his strong defensive play.
Charlie Harres, Columbia. The senior anchor of the defense for the Eagles, Harres was key to Columbia's amazing season.
Cameron Eden, Columbia. Another key member of the Eagles defense, Eden scored five goals with nine assists.
SECOND TEAM
Connor Olson, Gibault. A sophomore goalkeeper, Olson posted a 14-7-3 mark for the Hawks, including four straight shutouts in the postseason.
Jake Bridges, Columbia. A senior midfielder, Bridges scored 10 goals with three assists this season for the Eagles.
Zack Gillan, Gibault. Another potent member of the Hawks offense, Gillan notched six goals with an assist.
Hayden Reese, Waterloo. Reese scored eight goals with seven assists this season for the Bulldogs.
Andrew Whipple, Valmeyer. This senior led the Pirates in scoring this season with 13 goals and two assists to earn all-conference honors.
Alex Barton, Columbia. Yet another scoring threat for the Eagles, Barton tallied eight goals and 15 assists.
Micah Peters, Columbia. This junior looks to improve upon his two-goal, 12-assist total next season.
Robert Lugge, Dylan Altadonna and Gavin Kohnz, Gibault. Key members of the Hawks defense, Lugge, Altadonna and Kohnz kept opponents from getting many clean shots during the team's deep postseason run.
Brennan Lacroix, Waterloo. This sophomore earned all-conference accolades with his strong play on defense for the Bulldogs.
HONORABLE MENTION
Sam Ward (Waterloo), Stephen Redinger (Columbia), Ryan Lammert (Columbia), Josh Kaiping (Waterloo), Nolan Rick (Waterloo), Adam Stearns (Gibault), Cam Kincheloe (Gibault), Tate Schilling (Waterloo), Tony Ribolzi (Columbia), Ryan Brinkman (Valmeyer), Cole Juelfs (Valmeyer)