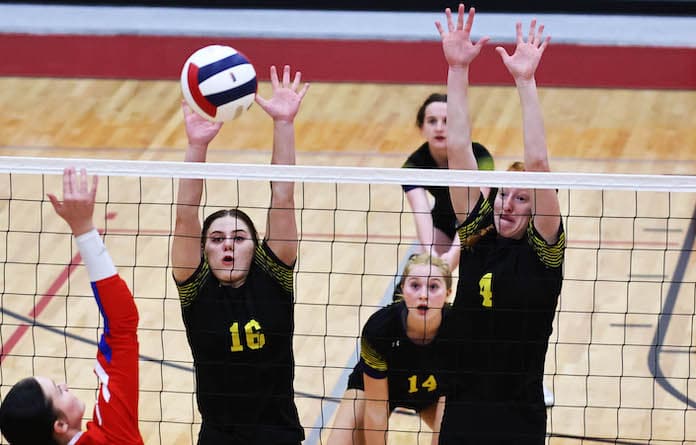 The Valmeyer High School volleyball team ended its season last Wednesday with a two-set loss to Effingham St. Anthony in the IHSA Class 1A Nokomis Sectional final. 
St. Anthony's defense proved too strong for the Pirates, who dropped the first set 25-9 and the second set 25-15.
"(St. Anthony) brought their A game plus some," Valmeyer head volleyball coach Karla Bivins said. "It was not the same team we watched the night before. They really shut down our middles with double and triple blocks, and the frustrations set in."
Valmeyer ended its season with an overall record of 35-4.
St. Anthony advanced to Friday's Okawville Sectional, where it downed Norris City in two sets to qualify for this weekend's IHSA Class 1A state tournament at Redbird Arena in Normal.
Playing their final match for Valmeyer were seniors Brooke Miller, Mia McSchooler, Kierstin Miller, Kate Lueck and Hannah Gideon.
Brooke Miller led the team this season with 448 kills and 162 blocks, ranking at the top in the St. Louis area in both kills and blocks per set.
McSchooler led the Pirates with 227 points and 477 digs.
Kierstin Miller finished with 305 kills and 102 blocks.
Lueck recorded 160 points and 248 digs.
Gideon finished with 146 points and 35 blocks.
"What a season!" Bivins said. "Two second place tournament finishes against some top teams. A third place finish at New Berlin and a first place finish at Red Bud had us ready for the postseason. A three-peat at Red Bud and a three-peat undefeated conference season was what we strived for and accomplished."
Bivins added that the departing seniors were a special bunch on the court.
"These seniors started in third grade practicing and playing leagues," the coach said. "As seventh graders they went 37-0, never losing a single set. They were cheated out of an eighth grade season due to COVID. Even their freshman year was cut short. But that made them all the more determined. Unfortunately, we could never make it over the sectional hump. But they are part of a record number of wins this season, broke numerous VHS records, and remained some of the best players in the metro east area and among 1A players."
Bivins said that while next season may be a rebuilding year for VHS volleyball, the Pirates do return some solid players in 2024.
"We still return one of the top setters, Violet Krekel, in the area. Kadence Seitz will be back better, stronger and faster after ACL surgery, and Lilly Carron will be ready to step in and play," Bivins said. "Many players are playing club volleyball and will put in the extra time and commitment to keep our program strong and consistent."