Best finish ever for WHS girls XC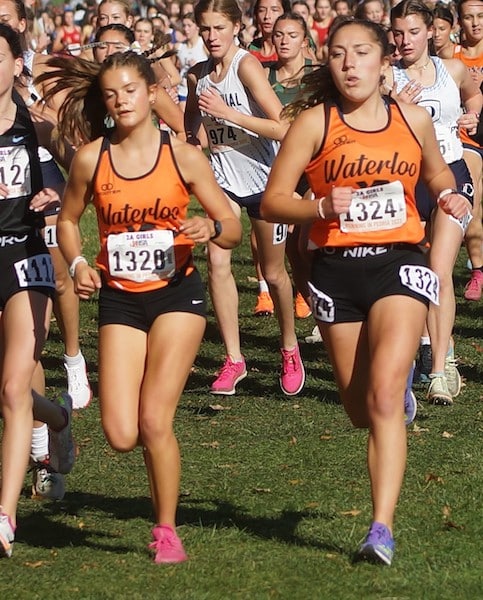 With a tradition of cross country excellence Waterloo High School added onto its legacy this past Saturday at Detweiller Park in Peoria.
Led by a top 10 individual effort, the WHS girls cross country squad placed ninth overall as a team in the IHSA Class 2A state meet. That marked an improvement from last year's 13th place showing and goes down as the highest team placing ever at state for WHS in the sport.
Cameron Crump, a junior who won a regional title a couple of weeks back, placed 10th overall at state with a finish time of 17:42. She is now the second fastest runner in school history, just behind 2017 state champion Jenna Schwartz.
First place in this year's Class 2A girls race went to Lincoln's Becca Heitzig with a time of 16:34.75.
Crump's 10th place showing makes her the second WHS female to become an all-state runner.
"She ran a really smart race," WHS cross country coach Larry Huffman said. "At the mile, she was sitting at around 50th place. By the mile and a half, she had moved up to around 40 place, and just after the two-mile mark, she had moved into around 20th place."
Other finishers at state for the WHS girls were senior Danielle Mudd in 57th place at 18:30, senior Angelynn Kanyuck in 66th at 18:37, junior Ava Rau in 137th at 19:44, junior Emily Lepp in 175th at 20:23, junior Kamryn Rader in 182nd at 20:34 and sophomore Calla Espenschied in 226th at 21:26.
In the Class 2A boys race, Waterloo's Kyle Kern and Austin Corey finished with their best times of their careers in a three-mile race at 15:35 in Peoria. Corey placed 64th and Kern placed 65th at state.
"It was an amazing day for the Bulldogs," Huffman summarized.
In the Class 1A boys race at state, Valmeyer's Oscar Hoerr placed 166th overall with a finish time of 17:03.17.
A notable local runner that was not present for this year's Class 2A boys race was Columbia senior Ethan Hogan. The recent University of North Carolina commit was shut down due to injury following his fourth place showing in a regional meet.
Per a family member, Hogan was battling an injury most of the cross country season and finally decided to get an MRI after the regional race. It was revealed then that Hogan had suffered a sacral fracture and will be out of action for multiple weeks.
Hogan has plans to return for the Eagles this spring for the track season.