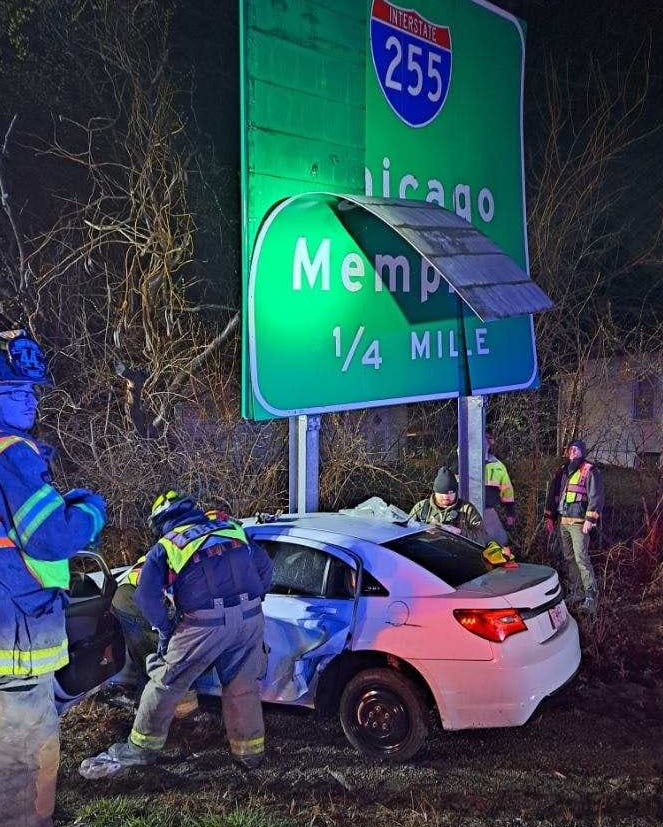 Emergency personnel responded shortly after 11:10 p.m. Saturday to a hit-and-run crash on Route 3 southbound at Stolle Road just north of I-255 between Dupo and Cahokia.
Responding agencies included the Prairie du Pont and Dupo fire departments in addition to Illinois State Police and both MedStar and Dupo EMS.
An Illinois Department of Transportation sign was damaged and hanging unstable over one of the vehicles involved in the crash. Extrication was required to remove two passengers from one vehicle.
Police said an unknown vehicle struck a white 2013 Chrysler 200 in the rear, causing the car to go off the roadway and strike an interstate sign. The driver of the Chrysler, Adin Subasic, 55, of St. Louis, was transported to an area hospital with non-life-threatening injuries. Two passengers, ages 49 and 24, refused medical transport. The roadway was closed until about 1:40 a.m.