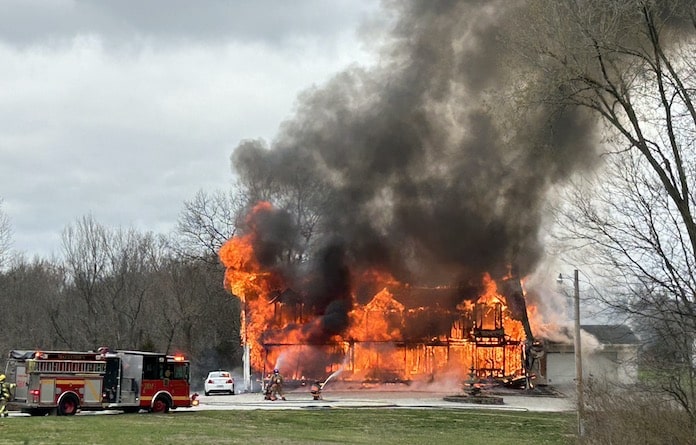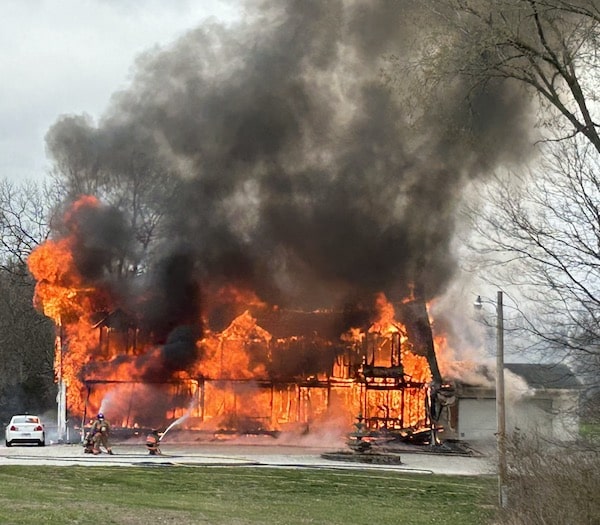 Five departments battled a fully involved house fire at 4103 LL Road east of Maeystown on Monday afternoon.
At about 3:15 p.m., a passerby reported to 911 that they saw smoke and flames coming from a building at that location. It was soon determined to be a three-story residential structure fire.
The building was completely consumed by flames upon firefighter arrival.
The Maeystown, Waterloo, Valmeyer, Prairie du Rocher and Red Bud fire departments all responded to the scene.
Maeystown Fire Chief Lynden Prange said the home, which is owned by Alan Zeiger, was a total loss. The residence was unoccupied at the time of the blaze but two cats did perish in the fire. All belongings in the home were destroyed.
"That was one of the bigger homes in our (fire protection) district," Prange said. "It went fast."
Prange said that based on burn patterns and other indications he observed on scene, the fire originated in the basement and may have smoldered for a while before advancing up through the structure.
As for a cause, Prange said it is still under investigation but will be difficult to determine.
"Everything fell into the basement, so it's hard to tell," he said.