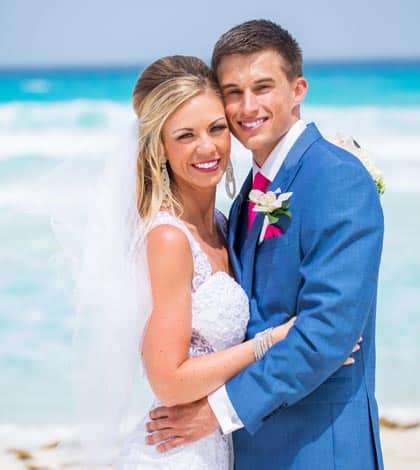 Aryn Nichole Rund and Dr. Ryan Thomas Beelman of Dallas, Texas were united in marriage May 27, 2017, by Ross Stumpf, friend of the couple.
The bride is the daughter of Philip and Melanie Rund of Breese. She is a 2007 graduate of Mater Dei Catholic High School and a 2011 graduate of the Chamberlain College of Nursing. She is a traveling registered nurse for Parallon Workforces.
The groom is the son of John and Pam Beelman of Waterloo and grandson of Casper and Margie Beelman and Alvin and Violet Scheibe, both of Waterloo. He is a 2007 graduate of Waterloo High School and a 2010 graduate of Southern Illinois University Edwardsville with a Bachelor of Science: degree in Medical Sciences. He is a 2014 graduate of the Southern Illinois University School of Dental Medicine and is employed as a dentist at Alfa Dental in Farmers Branch, Texas.
The maid of honor was Meghan Kelly, friend of the bride. The best man was Todd Beelman, brother of the groom.
Following a reception at Beach Palace Resort in Cancun, Mexico, the couple enjoyed a honeymoon in Thailand.