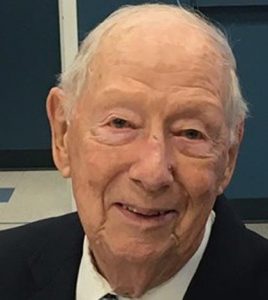 Richard "Dick" A. Schroeder, 93, of Waterloo, formerly of Ocala Fla., and Crystal Lake, died Feb. 2, 2017, at Centegra Hospital, Woodstock.
He was born Nov. 15, 1923, in Crystal Lake, son of the late Albert and Anna Schroeder (nee Flotow).
He was drafted into the Army and served in the Pacific Theater. Toward the end of World War II, he and thousands of his fellow soldiers were poised to be part of the first wave of the invasion of Japan, but were spared that uncertainty due to the dropping of the atomic bombs and Japan's surrender in 1945.
Dick was a longtime resident of Crystal Lake but had recently resided in Ocala, Fla., and most recently in Waterloo with his son Gary and daughter-in-law Marie. A majority of his career was spent in Crystal Lake at Pure Oil and Checker Die.
Dick was an active member of Immanuel Lutheran Church in Crystal Lake and St. John Church in Ocala, Fla.
Singing was a great passion of Dick's, which carried throughout his life. He sang in a number of barbershop quartets, performing in many functions including singing the National Anthem at Comiskey Park, singing with the Pure Oil Men's Glee Club while working there, and he was always involved in his church choirs. He also enjoyed golfing and bowling.
Dick is survived by his sons, David Schroeder of Boulder, Colo., Michael (Sandy) Schroeder of Union, Gary (Marie) Schroeder of Waterloo, and Steven (Dorothy) Schroeder of Lahaina, Hawaii; his grandchildren, Julia (Joe) Ferwerda and Sarah Schroeder; and great-grandchild Corey Ferwerda.
He was preceded in death by his parents, wife of 56 years, Fern; his second wife, Eileen Nierode; and his sister, Marita Jurs.
Visitation was Feb. 8, at Querhammer & Flagg Funeral Home, Crystal Lake.
Interment followed at Crystal Lake Union Cemetery.
In lieu of flowers, memorials may be made to Immanuel Lutheran Church, Crystal Lake, or to the charity of the donor's choice.
Online condolences may be expressed at www.querhammerandflagg.com.