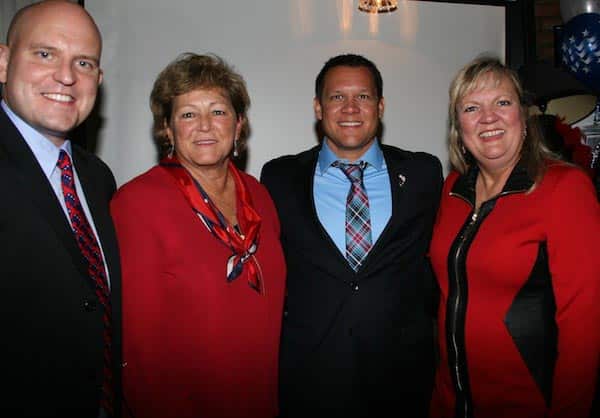 A strong Republican wave swept through Monroe County on Tuesday night, with the party winning all contested local races.
"We had a clean sweep tonight," Monroe County GOP Central Committee Chairman Ed McLean said Tuesday night.
That success also held true for Waterloo native Paul Schimpf, who rode strong support from his local constituents to a defeat Carbondale's Sheila Simon in the race for 58th District State Senator. He earned 69 percent of the vote in Monroe County, and 60.6 percent district-wide to Simon's 39.4 percent.
In the race for Monroe County commissioner, current county coroner and Waterloo alderman Vicki Koerber easily won over Democratic challenger Leo Stephan. Koerber received 13,531 votes to 5,284 for Stephan.
In the race for Monroe County Circuit Clerk, newcomer Lisa Fallon unseated incumbent Democrat Sandy Sauget in the closest local race of the night. Fallon received 9,780 votes compared to 9,100 for Sauget.
In the race for Monroe County State's Attorney, Chris Hitzemann defeated Democrat Heather Wescoat Dabler by a percent margin of 65 to 31.
In the race for Monroe County Coroner, Bob Hill defeated Democratic challenger Cassy Goldschmidt. Hill received 11,994 votes to 6,866 for Goldschmidt.
Major attention drawn to the race for president attracted Monroe County residents to the polls in record numbers this election.
Turnout for the 2016 election was at a record 78.2 percent, Monroe County Clerk Dennis Knobloch said. That tops the 2004 record of 76 percent. In 2008, voter turnout in Monroe County was at 75 percent.
There are a total of 24,890 registered voters in Monroe County.
In other races of local interest, U.S. Congressman Mike Bost (R-Murphysboro) retained his seat, receiving 54.4 percent of votes to Democratic challenger CJ Baricevic's 39.6 percent. In Monroe County, Bost received 65 of the votes, Baricevic 29 percent and Green Party candidate Paula Bradshaw 4 percent.
The U.S. Senate race for Illinois saw the only race in which Monroe Countians voted against the grain, as locally incumbent Republican U.S. Senator Mark Kirk received 56 percent of the votes to Democratic challenger Tammy Duckworth's 38 percent; Duckworth would go on to receive 54.4 percent of votes statewide to handily unseat Kirk and put both the state's Senate seats in control of Democrats.
Donald Trump was elected the 45th president of the United States by receiving 59,479,111 popular and 279 electoral votes to Hillary Clinton's 59,679,930 popular and 228 electoral votes. In Illinois, Clinton kept the state blue by receiving 55 percent of the votes to Trump's 39 percent. Monroe Countians turned out for Trump 65 percent to Clinton's 28.
For more in-depth coverage of Tuesday's election, including quotes from the victors, pick up the Nov. 9 issue of the Republic-Times newspaper.