Raging 'Dogs, Ice Eagles ready for Round 2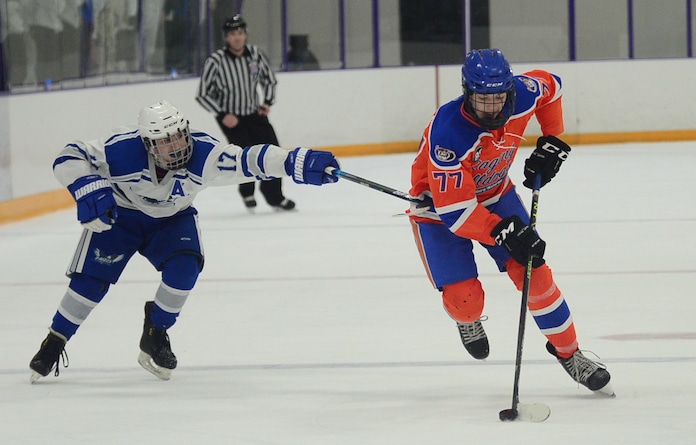 The last time they met, things got testy between the Freeburg-Waterloo Raging Bulldogs and Columbia Ice Eagles.
That rivalry clash on Dec. 22 ended in a 2-1 victory for the Raging Bulldogs.
The teams meet again this Thursday at the McKendree Metro Rec Plex in O'Fallon. The puck drops at 9 p.m.
Freeburg-Waterloo (9-5-2) won two recent games.
On Thursday, the Raging Bulldogs downed Triad to the tune of 7-4. Conner Blair and Jackson Carter each recorded two goals and two assists. Layne Wilkens added a goal and three assists. Brayden Richey dished out three assists.
Last Tuesday, Freeburg-Waterloo posted a 4-0 blanking of Alton. Richey, Wilkens, Blair and Alex Schilling all netted goals for the Raging Bulldogs, who took on Wood River in East Alton on Tuesday.
Columbia (6-8) shut out Bethalto last Tuesday, 3-0, behind 20 saves from netminder Dalton Fitzgerald.
Anderson Judy recorded two goals and an assist. Rece Sanderson added a goal and an assist.
Last Monday, the Ice Eagles dropped a 4-2 game to Triad.
Sanderson had a goal and assist, and Andrew Donjon also scored for Columbia, which faced Vianney on Monday in Fenton, Mo., and Triad on Tuesday at the McKendree Metro Rec Plex.