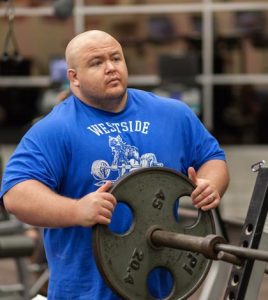 With the Olympics currently underway in Brazil, millions around the world are reminded of the amazing athletic capabilities of the human body and the rush of excitement that comes with the spirit of global competition.
One Waterloo man is a testament to that Olympic ideal, pushing himself above and beyond to capture gold, if only in his own heart and mind.
Alex Schmidt, 29, a 2005 graduate of Waterloo High School, has been obsessed with weightlifting since he first picked up a barbell at the age of 14.
While he has yet to fulfill his dream in an official competition, Schmidt accomplished his goal of bench-pressing 500 pounds during a recent workout at the Monroe County YMCA.
"It has always been my goal ever since I started," Schmidt said.
Schmidt bench-pressed 450 pounds at this year's Show Me Games in Columbia, Mo., beating his closest competitor by 25 pounds.
His plan was to attempt the 500-pound milestone at this year's Illinois State Fair, but injuries prevented him from entering the competition. Still, Schmidt pressed on in YMCA workouts and finally reached the peak of his weightlifting endeavors.
Schmidt hopes to make the 500-pound lift official during a competition in October or November.
Schmidt works as a senior fitness lead for Alliance Rehab in Webster Groves, Mo., working with patients who have Alzheimer's or conditions such as amyotrophic lateral sclerosis.
As a freshman at WHS, Schmidt starting working out as a member of the football team. He credits WHS head football coach Dan Rose for motivating him to continue weightlifting throughout high school.
Although he wasn't very coordinated athletically for football, Schmidt latched on to weightlifting.
"I basically played football so I had access to Coach Rose and the weight room," he said. "I ended up being pretty good at it."
Schmidt entered powerlifting competitions as a member of the WHS football team, which further motivated him to continue lifting.
Schmidt said he was able to bench-press 100 pounds at age 14, 200 pounds at age 15, 300 pounds at age 16 and then 400 pounds at age 20.
It took him nine years to reach his lifelong goal of 500 pounds.
"I've suffered stress fractures in both arms, a torn rotator cuff, and other injuries … plus life just gets in the way sometimes," Schmidt said.
He worked at the Monroe County YMCA after graduating from high school, and continues to work out there at least an hour every day during the week.
Schmidt said his father, Mark, served as an early inspiration.
"When I was a kid, my dad would do sit ups, push ups and pull ups every day," he remembers. "I wanted to be like him."
Now, Schmidt is happy to share his accomplishments in weightlifting with his parents and wife, Jessica, who regularly attend his competitions.
"It's really been special to me to share this success with them," he said.
Schmidt said weightlifting provides him with something that inspires and drives him. He hopes to work with high school students in the future and tell his story in an attempt to positively influence them.
In the meantime, Schmidt has his heart set on bigger and better things in the world of weightlifting.
"It went up pretty easy, to be honest," he said of the 500-pound benchmark.
"Who knows, maybe I'll get to 600 someday?"
Now that would be an Olympic-sized accomplishment.