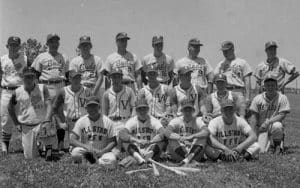 The Mon-Clair Baseball League capped off its 50th season this past weekend with the first-ever playoff championship for the St. Louis Printers.
The Printers topped the St. Louis Spikes in two games played Saturday in Belleville, 6-0 and 4-2, with ace lefty Zach Gronek throwing a one-hit shutout in game one and another four solid innings in game two to earn MVP honors.
The fact that two St. Louis teams reached the playoff finals of a league that was created in 1966 out of the great county league teams from this side of the river is a testament to the league's regional reach and long-lasting reputation in amateur baseball circles.
"I still contend that the Mon-Clair League is the best amateur baseball league in the Midwest," Mon-Clair League Hall of Famer and baseball historian Art Voellinger told the Republic-Times.
The current incarnation of the league was formed in 1966, with teams from baseball leagues in Monroe and St. Clair County and St. Louis merging.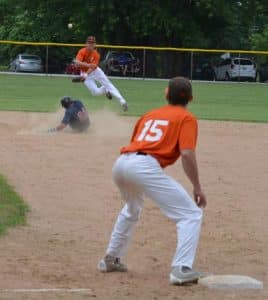 Competing as Mon-Clair Division teams in that inaugural year were Columbia, Dupo, East St. Louis, Fults, Valmeyer and Waterloo. Teams in the Greater County Division consisted of Belleville, Lebanon, Millstadt, O'Fallon, St. Libory and Tilden.
Those familiar with the history of local county league baseball told the Republic-Times that Bill Mohr of Belleville, who managed the Waterloo Warriors of the Monroe County League in the 1950s and 1960s prior to becoming league president, was asked to also lead the Greater County League upon the passing of its league president, Lee Schoepp of New Athens.
Mohr accepted, and eventually worked with officials from both leagues on a merger in 1966.
"Without Bill Mohr, the league as we know it now wouldn't have happened," Voellinger said. "Bill had great leadership qualities."
The Waterloo Warriors, who would change their name to the Buds the next season, won the Mon-Clair Division in 1966 — the first of 40 such division titles. Belleville took Greater County Division honors.
Behind the pitching of Dick Dillinger and Fr. Ed Hustedde, the Waterloo Warriors defeated Columbia, 9-4, in its Mon-Clair League opener on May 8, 1966.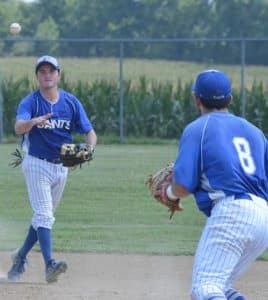 An end-of-season playoff tournament first took place in 1968, with O'Fallon topping Waterloo for the crown. Waterloo took the title in 1969, however.
The driving force behind Waterloo's success all these years, of course, is longtime manager Vern Moehrs. A 1952 graduate of Waterloo High School, Moehrs first played amateur ball with the Warriors before becoming the team's player-manager in 1961, succeeding Mohr.
Moehrs, 82, has amassed 1,947 wins and 23 league titles at the helm of the Warriors-Buds-Millers over 56 years. His 1989 team went an unprecedented 47-1.
"I'm pretty pleased with my career here in Waterloo," Moehrs said.
One of the main changes in the league over the years, Moehrs said, is the shift to more college-aged players on the teams rather than rosters containing an abundance of former professional and minor leaguers.
Among the former major leaguers to suit up for Mon-Clair League teams include Ray "Bud" Rippelmeyer, Nelson Mathews, Les Mueller, five-time league batting champion Neil Fiala and most recently John Rheinecker and Randy Wells.
Some of the many former minor leaguers to play for Mon-Clair teams include Bob Blank, Wayne and Ron Rohlfing, Cal Neeman, Bucky Jacobs and most recently Garrett Schlecht.
"I can't imagine the summer without it," said Blank, a Columbia resident who pitched in the Houston Astros organization and played for the Valmeyer Lakers for several seasons.
"It was great baseball," Blank remembers of his Mon-Clair playing days. "We developed great relationships and were fortunate to have the opportunity to extend our careers following pro ball.
"When the baseball ends, the friendships continue."
Valmeyer Lakers manager Dennis "Boog" Pieper has been involved in the Mon-Clair League from the very beginning, just like his managerial counterpart in Moehrs.
Pieper, a 1965 WHS graduate, first suited up as a 14-year-old on the Fults team in Monroe County League, joining his father.
"My dad told me they needed a player, so I dressed out," he recalled. "I didn't see the field that summer."
Pieper played for Fults during the team's 1966 campaign under manager Gerald Fausz, and later played for the Buds before becoming player-manager of the Lakers in the late 1960s.
Pieper's brother also played in the league.
Fast forward to today, Pieper's grandson, Jacob Hill, pitches for the Lakers.
"My mother has been coming to the games since as long as I can remember, and she's 92," Pieper said. "This league has been a family affair for us, that's for sure."
The Lakers have won seven league championships over the years.
Pieper was instrumental in the success of what is widely considered the crown jewel of the Mon-Clair season — the annual Valmeyer Midsummer Classic baseball tournament at Borsch Park. The 45th annual tourney was washed out this year due to rain, putting a damper on the summer.
On Independence Day weekend in 1971, the Lakers ventured north to Riverton for a tournament to fill a last-minute team vacancy. Valmeyer went home with the top trophy, and the community enjoyed the festive atmosphere so much they decided to create their own tourney back home.
"We started it, but it's now to the point that it could almost run on its own," Pieper said of the tourney. "It's been great for the town of Valmeyer. Playing a championship game at Borsch on the Fourth of July is almost better than playing in one at the end of the season."
Pieper said that just like anything else, the league has had to change with the times.
"Sometimes for good, sometimes for bad," he said.
He says that the recent influx of players fresh out of high school is a plus.
Pieper adds that the willingness of league officials and team managers to go out year after year and promote the league and get sponsorships is the key to its longevity.
"This league is very fortunate to have had that all these years," he said.
Moehrs agreed.
"It's almost a full-time job to do the things that we do to keep this league going every summer," he said.
Voellinger praised the timeless efforts of Moehrs and Pieper for all they have done for the betterment of the league.
"They've stayed dedicated for so long because they love this game," Voellinger said. "That's what makes this the best league around."
Voellinger, who many spectators may recognize as "Mr. Trivia" during his annual color commentary behind the booth at the Valmeyer Midsummer Classic and end-of-season tournaments, has served as a scorekeeper, player, manager and league official over the years.
"The Mon-Clair League has been very dear to me and I just love it," he said. "On Sunday afternoons, there's just an intensity there that I don't really see with the major leaguers on TV these days."
As a player, he remembers getting to compete with and against former pro players.
"What an experience to go up against 35-year-old former pro guys," he said.
Voellinger says that current-day players joining the league out of high school or college can really benefit from a summer of playing with this level of talent.
"I honestly feel that if you are not a good breaking ball hitter, you might become one after a summer in this league," he said. "This is just a beautiful league."
Voellinger has authored two books, titled "Double Play" and "One Home Run." Both are available on Amazon.com and are loosely based on this area's rich amateur baseball history.
Voellinger said his involvement in the forming of the Mon-Clair League Hall of Fame is probably his proudest accomplishment.
"In 1984, I wrote a letter setting the foundation for the league's Hall of Fame, which recognizes some amazing ballplayers, managers and league officials," he said.
Inaugural members of that 1984 class were Mohr, Moehrs, Carl Braun, Joe Jorn, Barney Elser, Syl "Tuffy" Mueth, Norm Rutter and Mel Patton. It has grown to include 113 additional members since.
Today's league consists of original members Waterloo, Valmeyer, Columbia, Millstadt and Belleville, along with Fairview Heights, Edwardsville, Charleston and the St. Louis Printers and St. Louis Spikes.
Current league president Don Barton of Belleville played for and managed the Belleville team for 10 years. He has served as the league's top official for the past three years.
Barton said the metro-east region, and entire St. Louis area for that matter, have always been a hotbed for baseball talent.
"Guys that just want to play ball because they enjoy the game," he said. "But since I came back to the league after a long absence, the most amazing thing about being a part of the league is the number of people who are dedicated to making sure that these players who want to play ball have solid, competitive places to play."
Barton praised the managers, officers and administrators who have been around since the inception of the league, and even before.
"Many people retire from their jobs after 25 years or so," he said. "We have people who have volunteered their time to the Mon-Clair League over 50 years."
Barton added that league involvement is year-round.
"Managers must recruit and raise money all year. Officers and administrators oversee that all rules and regulations are followed, that all teams have a level playing field," he said. "I guess what I am trying to say is that the passion, dedication and success of our league falls directly to the many people who have given their time to making it work.
"The faces sometimes change, but our goal never does."