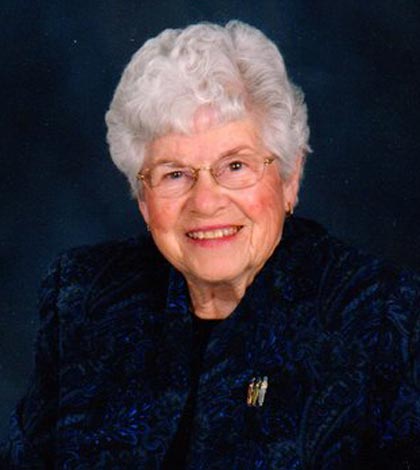 Mildred I. Hoffman (nee Altes), 93, of Waterloo, died Aug. 16, 2017, in St. Louis.
She was born March 10, 1924, in Waterloo, daughter of the late George and Louisa Altes (nee Henke).
She is a member of Zion United Church of Christ – St. Joe, IL and former Renault American Legion Auxiliary.
Mildred was the organist at St. John's United Church of Christ in Fults for more than 33 years. She was a fantastic baker, she loved reading, and she was  a skilled seamstress.
She is survived by her children Luann (Dennis) Valentine, Carolyn Shields, Nancy (Glenn) Voelker, and John (Deb) Hoffman; daughter-in-law Bonnie Hoffman; grandchildren Kevin Hoffman, Brian (Angie) Hoffman, Scott (Carolyn) Valentine, Tim (Tina) Valentine, Christopher (Kristine) Voelker, Aaron (Sherri) Voelker, Renee (Jeremy) Steibel, Katie (Matt) Hudson, and Karen (Justin) Benavidez; and great-grandchildren Cassie (Kyle) Duncan, Kayla, Ryan, and Morgan Hoffman, Mason and Marissa Hoffman, Kate and Ella Valentine, Jacob and Audrey Benavidez, Lucy and Celia Hudson, Markee and Ripken Voelker, Keith Voelker and Tristan Steibel; and sister-in-law Eileen Hoffman; along with nieces, nephews and cousins.
She was preceded in death by her parents, husband Louis "Peggy" Hoffman, son James Hoffman, and son-in-law Jeff Shields.
Visitation is 3-8 p.m. Aug. 18, at Quernheim Funeral Home, and 9-10 a.m. Aug. 19, at St. John United Church of Christ, Maeystown.
Funeral services will be at 10 a.m., at the church, Pastor Nancy Spier-Lee officiating.
Interment will follow at St. John Cemetery, Fults.
As an expression of sympathy the family prefers memorial contributions to Uni-Pres Kinder Cottage, Fults Park or Baum Salem Cemetery Fund.