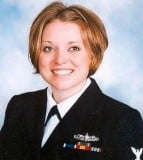 Melanie Diane Guerra, 34, of Waterloo, formerly of Elkville, died Jan. 31, 2016, at Red Bud Regional Hospital in Red Bud, due to an auto accident.
She was born Feb. 26, 1981, at Portsmouth, Va., the daughter of Gary and Glenda (Martie) Hunsacker. She married Robert W. Guerra on Sept. 19, 2003 at Bremerton, Wash., and he survives.
Guerra  had worked as a barista at Starbucks. She was a member of Elkville First Baptist Church. She had joined the United States Navy in 2001.
She is survived by her husband of Waterloo, four children: Alexis Nicole Guerra, Auberon Lee Guerra, Asher Robert William Guerra and Aystin Jude Guerra, all of Waterloo; parents Gary and Glenda Hunsacker of Elkville; brother Christopher Hunsacker and wife Emily of Carterville; maternal grandparents Charles and Judy Martie of Dowell; mother-in-law Norma Guerra of San Antonio, Texas; brother-in-law Brian Guerra, and numerous other relatives.
She was preceded in death by sister Kathy Hunsacker, paternal grandparents and her father-in-law, Robert Guerra.
Funeral services will be 11 a.m. Thursday, Feb. 11, at Elkville Christian Church in Elkville with Bro. Jerry Aken and Rev. Scott Slone officiating.
Friends may call from 5 to 8 p.m. Wednesday, Feb. 10, at Searby Funeral Home in Du Quoin and from 9 a.m. until the time of the service on Thursday at the church.
Military graveside rites will be conducted by the U.S. Navy at 1 p.m. Friday, Feb. 12, at Jefferson Barracks National Cemetery at St. Louis.
Burial will be in the Jefferson Barracks National Cemetery at St. Louis.
Friends may make memorials to the family and will be accepted at the funeral home.