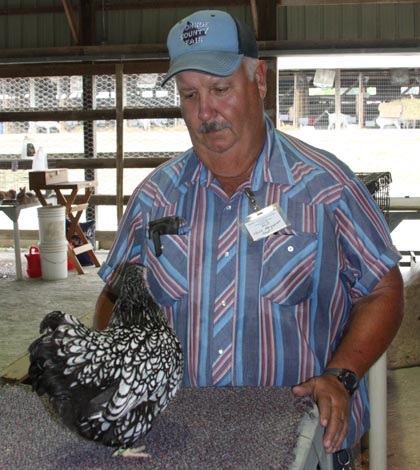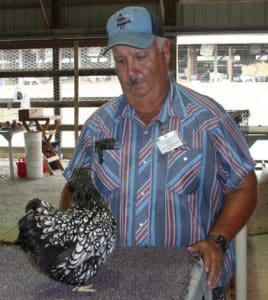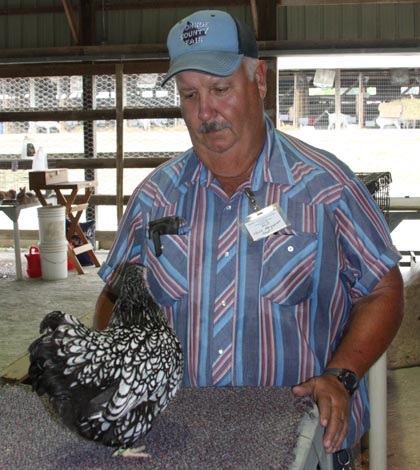 Hank Marquardt strode into the poultry and rabbit barn last Wednesday afternoon at the Monroe County Fair. Another volunteer followed behind, carrying a box overflowing with hundreds of tags awarding different prizes for poultry entries.
"That's a lot of tags," it was noted, to which Marquardt, 61, nodded.
"When there weren't so many entries, we used to just tie them to their cages," the 20-year poultry superintendent said. "Now we bag em' and give em' to the families."
A lot has changed since Marquardt first took on the responsibility of overseeing the poultry show at the fair. More classes exist within the different breeds, while overall entries have increased significantly.
A barn that once housed as little as 13 exhibitors and 128 chickens now contains sheep, and more than 600 chickens are displayed in a combined rabbit and poultry barn.
"Back when we were in the current sheep barn, we were asking for a new barn for probably five years. And they kept saying we'll never fill it. I'd say we fill it," Marquardt said.
Don Schrader, Monroe County Fair Association president, also highlighted the increase in entries when considering Marquardt's impact on the poultry show.
"He's grown the poultry department from almost nothing to where it's at today with over 600 chickens entered.
He's a great guy to have around," Schrader said. "He has a heart for helping kids."
Marquardt has also encouraged his daughters to volunteer, as they have come to appreciate opportunities the fair offers 4-H and FFA members. One daughter, Lauren Morgan, serves as assistant poultry superintendent. Another, Amanda Marquardt, serves as rabbit superintendent.
"When I was growing up, the fair was such a big part of my life. I wanted to help out however I could," Morgan said.
Marquardt's roots with the fair extend to when he began showing livestock as a 4-H kid in its first year at the new grounds. Over the years, Marquardt estimates he's collected more than 200 rabbit and chicken trophies alone.
"You're a country boy. We weren't allowed to be in band or play sports then," he said of the inspiration to join 4-H. "School was about five miles away and that was too far to drive. And this is my opinion: you're going to learn more in real life in 4-H then you will from playing basketball. Some people may not like that I said that, but that's my opinion."
Marquardt was also a member of the Valmeyer FFA. Combining his years of showing with experience as superintendent gives him quite a bit of knowledge about poultry, which he is more than willing to share with younger generations.
"I love answering questions for the kids," he said, adding that someone cared enough to do that for him when he was in 4-H. "If you're interested in poultry, I'll talk your ear off. If you're not interested, I won't waste my breath."
That includes a bit of advice on preparing chickens for a show.
"Wash your chickens before a show. The judge appreciates a good-smelling chicken," he remarked. "Trim their beaks. Trim their toenails. Give 'em a once-over. The judge will give em' a once-over when they look at 'em."
That, and making sure to give the bird the right protein feed when it starts to molt, can make a difference to judges, he said.
Still, Marquardt explained that no bird is perfect.
When asked what comes closest to perfection, Marquardt took out a white Plymouth Rock Bantam — this year's grand champion bantam female — and noted the angle of the tail, pointing out that the bird's feathers were all there in full, and highlighted the shape of the body and it's "nice feet."
He added that judging standards come straight from the American Poultry Association.
"I have to say, in the last 20 years, this year had some of the best birds since I've been involved," he said.
Marquardt, who has also served as Monroe County Road District 9 commissioner for 38 years, estimates he can continue for maybe another five years before passing the joy of volunteering on to someone else.
"There's a young man, probably in his 40s. He's been at it for probably five years now," he said of a potential successor. "And there's a lot of good young kids here. I'm sure someone will carry it on."
Morgan said she doesn't know whether she might fill those shoes. She is more concerned with continuing to make the show a team effort.
"We all do our part," she said.
Regardless, preserving the legacy that Marquardt leaves behind should prove challenging, especially considering the impact he's had on kids such as John Howell.
"He was this little blonde-headed kid. One year I gave him a bird, and he took it and raised it," he said. "And he came back with that bird and beat me.
"To this day, he loves chickens as much as I do."