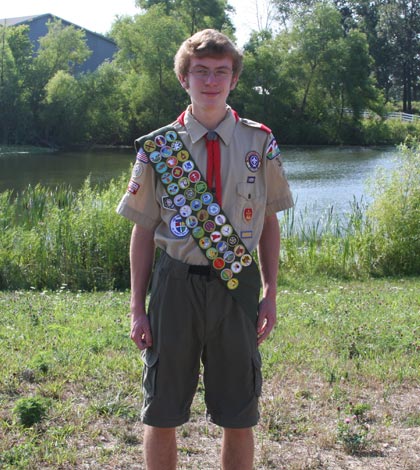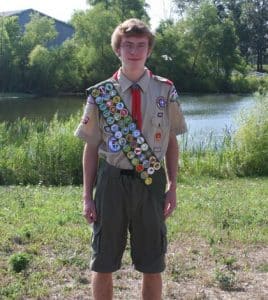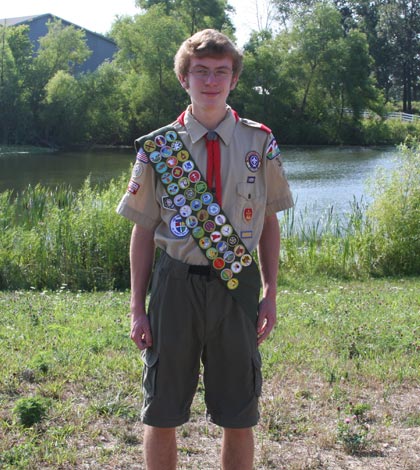 When her boys were both little, Angie Broske of Waterloo recalls bringing them in to volunteer at Helping Strays.
"I wanted to get (them) thinking about doing things for others," she said.
Her son David said he was only 5 when he first visited the animal shelter and donated a dog blanket, but he and his brother, Paul, didn't begin volunteering until David was 7. The two have since made Helping Strays their community service project.
"I've been recording my volunteer hours since 2013, and more than half of that is Helping Strays," said David, now 15.
As a Columbia Troop 320 Boy Scout, Paul completed an Eagle Scout project at Helping Strays last year, in which he made a flag pole and decorative garden for the front of the new facility near the entrance. A flagpole dedication ceremony took place during Helping Strays' Fur Festival and Mutt & Me 5K/Fun Walk.
Now, David plans to do his Eagle Scout project at the same place. The Waterloo High School student said he wants to create a mulch-based walking path on the Helping Strays grounds for dogs.
"Even though I have always worked with cats at the shelter and also lived with cats, and I love cats, I really love dogs," he explained in a Powerpoint presentation on his project.
Shelter volunteers currently have no walking path to walk the dogs along. David's proposal is to have the path extend 700 feet in length — starting at the fenced-in play area behind the shelter — along the west end of the pond. The path forms a tear drop by looping around at the end and reconnecting to an earlier point in the path.
"I kind of want it to be a representation in that the tear drop reminds us of the tears of homelessness to the tears of joy through adoption, then love, family and finding a home," he said.
Along the path, David will include two dog waste stations to control odors and protect the environment. He is also adding a bald eagle statue and bulldog statue on the grounds.
"I wanted to have (Columbia and Waterloo schools) represented because Helping Strays is kind of in between
Waterloo and Columbia," he said of the statues.
He will include a Boy Scouts plaque placed on a tear drop stone with his name and the name of his scoutmaster, Chris Neumann, at the pointed part of the path's teardrop with the statues.
Landscape edging will be included along the entire path on both sides to keep the path contained and giving it a clean appearance. Additionally, five crimson Crabapple trees were donated by a member of the Helping Strays board of directors for his project. David said tentatively that he may have the project completed next spring.
The total cost of the project is about $6,000, and he has raised a little more than $1,000. Donations can be made at helpingstrays.org or via mail to 4221 Hanover Road, Columbia, IL 62236. Mail-in donations should include "David's Eagle Project" in the memo.
For more information, call 618-830-3351.
Edgar Weidenbenner, Troop 320 assistant scoutmaster, said the project is a great community service, as well as an opportunity for David to grow.
"It's a very good center. They just need something to help walk the dogs," he said. "It's also a good way for (David) to develop his character. He's not actually building the path.
"He's overseeing other people that are doing the work, so it will build his leadership. So far, he's done very well pulling all the stuff together that he needs."