Locals playing college football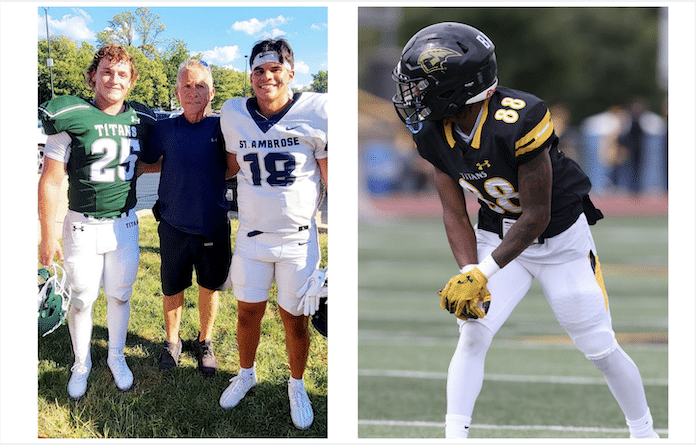 For local football fans, there are more than just the area high school teams to root for this fall.
That's because several former standouts from Waterloo and Columbia high schools are playing college football at the NCAA Division II and III levels.
One such former prep footballer is Columbia High School graduate Ronnie Hunsaker, who is a junior running back for McKendree University in Lebanon. So far this season, Hunsaker has 12 carries for 18 yards and one catch for six yards for the Bearcats, who are 0-3 on the season and compete at the Division II level.
Hunsaker's former teammates on the Eagles, redshirt sophomore running back Donavan Bieber and freshman offensive lineman Thomas Koenigstein, are also members of the McKendree football squad but have yet to see game action this fall.
Another former Eagles standout playing on the college gridiron is speedster Londyn Little. A key member of the University of Wisconsin-Oshkosh track squad during the spring, Little also plays football for the Division III school.
Little has five returns so far this season for 140 yards in addition to two receptions for 86 yards and two carries for five yards.
The Titans are 2-1 on the season.
There are six former Waterloo Bulldogs playing college football this fall.
Cole Glowacki, a senior defensive lineman, has played in two games this season at Greenville University, which is 2-1 and also competes in Division III.
His teammate on the Panthers is fellow former Bulldog Eric Williams, a freshman defensive lineman. Williams has not yet seen game action this fall.
AJ Lattimore is another former Waterloo standout playing college football. He's a sophomore offensive lineman at Carthage College in Kenosha, Wisc. Lattimore has played in both games for the Division III school, which is 0-2 so far on the season.
Waterloo's Maxwell Mitchell, a freshman defensive lineman, is a member of the Washington University football squad in St. Louis but has not yet seen game action at the Division III school.
Two fellow college freshmen from Waterloo, Aidan Morrow and Bryce Reese, had the pleasure of playing against each other for their respective schools.
Morrow plays for St. Ambrose University in Davenport, Iowa, and Reese plays for Illinois Wesleyan University in Bloomington.
Both played on special teams for their respective junior varsity squads when the two Division III teams met up at the beginning of this month.