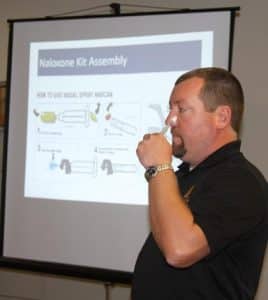 Not only will law enforcement in Monroe County soon be carrying the opioid antagonist known as Narcan, but first responders, including firefighters, will soon take part in the same protocol.
Training sessions at Waterloo City Hall last Wednesday showed Waterloo and Valmeyer police and Monroe County Sheriff's Department deputies how to use Narcan in the event of an opioid overdose. Ryan Weber of Monroe County EMS led the training, which included knowing when to administer Narcan and what to do once administered.
Signs of an overdose can range from slowed breathing and a slowed heart rate to skin discoloration. Specifically, opiates bind to receptors in the brain to cause slowed breathing and a decrease in consciousness.
"The one we had a few weeks ago, he was breathing once every five, seven seconds," Weber said.
To administer Narcan, Weber indicated that the nasal spray requires some assembling. The assembly instructions can be found online at Narcan.com. After assembling, the person administering the spray must first squirt some of the spray into the air.
Finally, the administering party should only spray one milliliter into each nostril. Weber said an overdose victim could show side effects upon coming out of the overdose.
"When we give the Narcan, there's a chance they are going to come out of it fighting," he said. "So we have to wait and watch for that."
Local police will not receive Narcan for their departments until the Illinois Department of Public Health administers a grant to cover the expense of each officer carrying two packages of the spray.
Weber did not know when the grant would come in. Once law enforcement receive the Narcan, the only recurring expense would include replenishing the opioid antidote when it expires or is depleted.
"The person who updates me on (the grant) didn't have any new information," he said.
In addition, first responders with the Valmeyer, Hecker, Red Bud and Prairie du Rocher fire departments will begin carrying Narcan, with a tentative date set for Jan. 1. Memorial Hospital in Belleville must first implement a policy change before these area fire departments can do so.
"The EMS director at IDPH stated that they have not established a date; however, 'it needs to get done,'" Phillip Pugh, Jr., Memorial Hospital director of emergency management, said. "We are targeting for Jan. 1, effective date. As to what the policy will fully entail, that is still (to be determined)."
Generally speaking, the policy will cover how to obtain Narcan from resource hospitals, when and how to use Narcan, when not to use Narcan and documenting its use.
First responders will not receive training until after the policy goes into effect. According to Weber, Columbia and Waterloo firefighters will not carry Narcan as they are not licensed first responders.
Columbia police and EMS and Monroe County EMS currently carry Narcan. In 2015, the state of Illinois passed the Heroin Crisis Act to ensure that law enforcement and first responders in both state and local government agencies carry opioid antidotes.