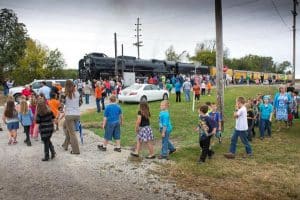 Union Pacific's "Living Legend" No. 844 steam locomotive gave new meaning to the old term "railroad time" as it arrived in Prairie du Rocher at exactly 9:45 a.m. last Wednesday morning.
The train had left Kirkwood, Mo., following an overnight stay and came through Dupo before traveling south through Monroe County.
The large black steam engine, pulling several support cars, thrilled a waiting crowd of several hundred by announcing its arrival with blasts of its iconic steam horn.
The locomotive thundered into town and stopped across the crossing at Henry Street, adjacent to the American Legion hall near where the old train depot once stood.
Grade school students and their teachers from the Prairie du Rocher school were also on hand for the train's arrival.
The "Living Legend" is one of three historic engines Union Pacific maintains at its shop in Cheyenne, Wy., and was on its first historic run across the country to Memphis, Tenn., and back, since completing a three-year overhaul earlier this year.
Two other steamers are operated by Union Pacific to support the history of railroading — "Challenger No. 3985" and the largest of them all, "Big Boy No. 4014," which is slated to return to service next year.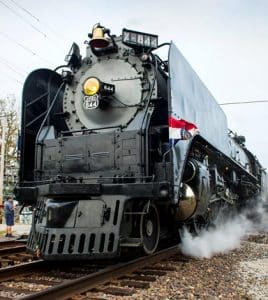 In addition to the three historic engines Union Pacific maintains and operates, the firm has donated 47 other steam locomotives to museums and history exhibits nationwide.
No. 844 was the last steam locomotive delivered to Union Pacific, going into service in 1944 as a high-speed passenger train pulling locomotive.
The locomotives once burned coal, but have since been converted to burn fuel oil, which is more generally available and cleaner today.
No. 884 left Cheyenne on Oct. 13, and is currently on a 19-day run from there, across Montana, Kansas, Missouri, Illinois, Oklahoma, Arkansas and Tennessee before returning to the Union Pacific shop in Cheyenne for the winter.