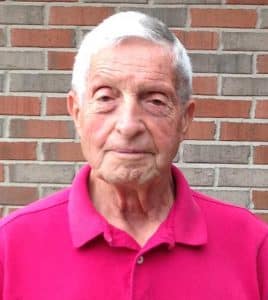 When asked how much longer he would volunteer for Monroe County 4-H and the University of Illinois Extension Office, Jim Etherton of Columbia didn't hesitate in his response.
"Until the day I die," he said.
That unwavering commitment to volunteer efforts helped Etherton find his way into the Illinois 4-H Hall of Fame. In August, the Illinois 4-H Foundation announced 74 Hall of Fame winners, including Etherton.
"I was surprised but pleased that they recognized a lot of things," Etherton said of being honored. "There were probably others more deserving of it than me, but I appreciated it."
Etherton would have been honored at an induction ceremony in August at the Illinois State Fair in Springfield but was otherwise engaged. Instead, Etherton will receive his medallion during a special Monroe County U of I Extension ceremony at 7 p.m. Nov. 4 at 901 Illinois Avenue.
Monroe County U of I Extension Director Pam Jacobs said he continuously invests his time into volunteering. In addition, she said he brings an upbeat, positive and friendly attitude to the mix.
"He's really a solid volunteer with us," Jacobs said. "He's friendly, outgoing and very helpful to people who have questions."
As a kid, Etherton participated in the 4-H program in Cape Girardeau County, Mo. That led him to want to one day pass on the experience to future generations.
"I've always had a nice, soft heart," he said of why he volunteers. "I spent 10 years as a 4-Her."
The determination for inducting volunteers into the Hall of Fame includes looking at those with a history of meaningful service to the organization and seeing whether they received a nomination from their county extension office or Illinois 4-H Foundation Board.
For more information on the Illinois 4-H Foundation and the 4-H Hall of Fame, go to 4hfoundation.illinois.edu or call 217-333-9295.
One of the major projects Etherton participated in through 4-H consisted of obtaining the Baebler Educational Farm in Waterloo from the late Vera Baebler. Over time, Etherton became friends with Baebler and helped her consider options for what to do with the farm.
"I visited with her all through those years, never talking about the farm," he said. "I never pressured her."
At the same time the extension office was working on securing the farm, Etherton served as 4-H Education Foundation and Scholarship Committee president. He chose to step down toward the end of negotiations to avoid a conflict of interest.
However, Etherton continues to serve as a key piece of the puzzle in maintaining the farm and turning the land into what Baebler and the extension office envisioned throughout the process.
"We have a lot of work to do," he said. "It's like anything else you get for free."
Included in that work is killing Bush Honeysuckle to avoid an infestation of the European honeysuckle aphid that can cause reduced fruit production. He and other volunteers have also completed work such as naming the farm, creating and installing a sign for the farm, re-stocking ponds and other activities.
"It will take the support of everyone," he said of getting the farm in order. "Not just members, but the whole county."
The Columbia man started volunteering with the Monroe County U of I Extension Office when he moved to Columbia in 1967. Through the years, he has helped at the county fair, became a master gardener in 1995 and volunteered as a regional representative to the Illinois Extension Advisory Committee.
To become a volunteer like Etherton, contact the Monroe County Extension Office at 939-3434. Etherton said that ultimately his favorite part of volunteering is interacting with people in the community.
"I enjoy the contact with people and helping them when I can to accomplish things," he said.