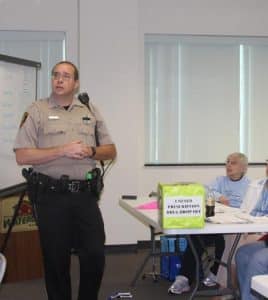 Waterloo police officer Scott Spencer surveyed a room full of senior citizens last Wednesday at City Hall as a merry expression spread across his face.
Every seat was filled and every person seemed completely engaged in the subject matter of the class. Spencer estimated a little more than 50 people in attendance.
"If we get much more than this next year, we'll have to find a bigger space," he chuckled.
The veteran officer recalls seeing only about 35 seniors total at last year's Waterloo Senior Police Academy. Spencer began heading up the academy about 11 years ago.
"Interacting with the community, helping the elderly become more street smart and the relationship established between senior citizens and the department" are the greatest benefits of leading the academy each year, Spencer said.
The program, which began 17 years ago, continues to arm seniors with knowledge pertaining to general senior safety, avoiding scams such as fake phone calls from the IRS, a police K9 demonstration, drug abuse awareness, CPR and first aid, among other subjects.
"It's been enlightening, very enlightening," said Ardell Roider, who is in her first year of attending the academy. "I keep up with the news, I keep up with what's going on, so it's nothing earth-shattering. I already learned about it, but it's been interesting."
Last Wednesday's class included a presentation from Columbia Police Department's assistant chief Jason Donjon on the drug epidemic in the county. One attendant asked Donjon what drug presents the most difficulty for law enforcement and the community, to which he replied, "opiates."
Waterloo and Columbia police continue fielding overdose calls related to the opiate heroin, including one that resulted in the death of a Columbia man in August.
"It's sad that we have so much in the county," Roider said.
On Oct. 12, Spencer led a course on elder driving safety, in which he shared the potential dangers senior citizens face on the road. He also discussed how certain factors determine whether an elderly person should receive a DMV evaluation to assess their driving ability.
When a police officer sees certain warning signs with an elderly driver, that officer can fill out a form requiring the driver to receive an evaluation. One of the factors an officer considers is negligence on the part of an elderly driver involved in a car accident.
"If they're thinking they're making a right turn on Columbia Avenue and they're 100 yards from their turn, that's definitely something we want to look at," Spencer said.
Memory loss, hearing deficiencies and numbness of the senses are some of the changes that occur through aging. Spencer warned that these physiological changes can lead to unsafe driving practices.
"When (some elderly drivers) are pushing down, they think they're on the break, but they're really on the gas pedal," he said, referring to an example of sensory numbness.
During Spencer's presentation, he shared the statistic that 7,000 elderly drivers die in accidents each year, leading into the idea that some senior citizens should consider whether they can safely continue driving. However, he explained the Secretary of State's office does what it can to allow these drivers to keep their licenses, such as implementing restrictions to their driving, rather than resorting to immediately revoking their privileges.
"You might have really good vision during the day and really bad vision at night, so they'll restrict you to day driving," Spencer said.
Senior Police Academy classes take place at 1 p.m. every Wednesday on the second floor of Waterloo City Hall through Nov. 9. Next week's class will involve a K9 demonstration, according to Spencer.
The academy includes a graduation ceremony during the last week. For more information, contact the Waterloo Police Department at 618-939-3377.